Bench leads Lakers in flipping the script to beat favored Clippers

LOS ANGELES -- One year ago, the Lakers were rolling out arguably the most decorated starting lineup ever assembled, and Shawne Williams was not playing basketball. Drafted in 2006 out of Memphis, Williams had already been with six teams and arrested three times. The Mavericks waived him after three months. The Nets waived him after three days. The Blazers waived him immediately. The Bobcats gave him a shot but cut him in favor of an injured Darius Miles. The Nets waived him again. The only team with whom Williams enjoyed even a modicum of success was the Knicks, scoring seven points per game in 2010-11 for then head coach Mike D'Antoni.
A rangy 6-foot-9-inches, Williams is what's known in the modern NBA as a stretch four, but even that title is a stretch. The last time he was in the league, in 2011-12, he shot 24 percent from three-point range. He spent '12-13 not in the Development League or overseas, but at IMG Academy in Florida. He was out of shape, dealing with his latest arrest for possession of marijuana and codeine, too upset to watch games on television and too ineffective to play in them. At 27, he looked finished, and D'Antoni might have been the only coach in the league who still believed in him.
The Lakers rolled out their new starting lineup Tuesday night and it was a little different than the Hall of Fame procession they unveiled a year ago. "Who is Shawne Williams?" tweeted Adria Gasol, Pau's younger brother. Well, baby bro, he's the Lakers' starting power forward, which is a statement either about his perseverance or their desperation and possibly both. The record will show that Williams scored the first basket of the Lakers' season. It will show that point guard Jordan Farmar, who spent last year in Turkey, usurped Steve Nash to lead a furious fourth-quarter comeback. And it will show that Xavier Henry, who averaged 3.9 points in New Orleans, masqueraded as Kobe Bryant with a career-high 22. In five months, all this may be forgotten, and it may seem unfathomable. But the Lakers knocked off the Clippers, 116-103, and at Staples Center, you'd have thought UC Irvine had upset Kentucky. A Lakers crowd, unfamiliar with the role of the underdog, embraced it full throat.
Before the Lakers took the floor, D'Antoni acknowledged that his team arrived with "seven or eight question marks" and "an abundance of we-don't-really-know." Bryant was sitting behind the bench in a mournful black suit. Nash was nursing a vast assortment of injuries. Chris Kaman, the team's most significant free-agent acquisition, was ill. But D'Antoni was certain of at least one thing. "That locker room is a lot different," he said. Dwight Howard was gone and peace was restored. The Lakers played like what they are, a collection of castoffs diving on the floor to salvage their basketball lives.
Heading to the fourth quarter, the Clippers led by four points, and D'Antoni turned to a lineup of Farmar, Henry, Jodie Meeks, Wesley Johnson and Jordan Hill. No Nash, no Gasol, no Kaman. Adria must have been baffled. But D'Antoni never made a single substitution. His mishmash unit outscored the Clippers, 41-24, and Bryant flashed an approving thumbs-up. He didn't even have to consider peeling off the suit and dressing for a final shot. "You could feel the energy of guys rooting for one another," D'Antoni said. "Last year, it was cold." Last year, the Clippers beat the Lakers all four times, and only one game was competitive. Then the Clips added Doc Rivers, J.J. Redick and Jared Dudley, and the Lakers added ... Nick Young.
Rivers may eventually bring the Tom Thibodeau defense to L.A., transforming DeAndre Jordan into a reasonable facsimile of Kevin Garnett, but he has hours of film sessions to go. The Lakers bench scored 76 points, the most since the Michael Cooper days, and they drilled 14 three-pointers. They played fast and free, the D'Antoni way.
"You know they were going to play like this was the world championship," Rivers said. He went along with a line of questioning about potential parade routes prior to Tuesday's game, but may have to adopt more modest goals for the time being, like boxing out Jordan Hill. It's foolish to read too much into one game -- remember, the Bobcats beat the Pacers to start last season -- but it's also the fun of opening night. The Lakers reclaimed their town, or so the narrative will spin, at least until they touch down in Oakland on Wednesday morning. Regardless of what transpires over the next 80 games, none in L.A. can be more entertaining, more surprising, more rollicking, than the first.
Photo by: Photo by Ethan Miller/Getty Images
Credit to: Sports Illustrated
connect with us & get a guide
Contact Us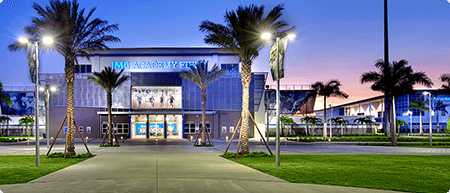 5650 Bollettieri Boulevard
Bradenton, FL 34210
Fill out the form below and we'll be in touch soon!
Request a brochure
We offer downloadable brochures about our boarding school, youth camps, adult programs, team training and pro/collegiate training in multiple languages.
Visit Us
Are you interested in touring the IMG Academy campus? Fill out the form below to submit a tour request and we will be in touch soon to confirm your request.