Brazil's Gabriel Cop Luciano ready to pursue his dreams at IMG Academy

Gabriel Cop Luciano is a testament to the power of iron will and determination. Faced with multiple setbacks and injuries in his young career, Luciano has overcome them all and will take his career to the next level at IMG Academy. He looks to become a mentor and leader to his teammates during his post-graduate year.
"I think I can be an example to the team." Luciano said. "I had every reason to quit at 15-years old, because I had knee surgery, and then at 16-years old I had the same surgery again. Now I have the chance to go to IMG and I am really focused on working out and getting a lot better. You will see me on the court every day."
The 18-year old native of Brazil, however, has overcome his setbacks in a major way. He has been nominated the "Best Point Guard of Sao Paulo" twice in his career. Luciano was also a member of the Brazilian U15 National Team, which he states has been the biggest accomplishment in his career.
Luciano now looks to expand his talents with the IMG Academy Basketball program and focus on his career after high school.
"The main point is to get a (college) scholarship. I want to be seen and get a scholarship, and I know that being at IMG [Academy] will help me," Luciano said.
With the coaching staff and facilities that IMG Academy offers, Luciano feels that he will be in the best position to receive a scholarship.
"The thing that I like most about IMG Academy is that I can work out apart from the actual team workouts," Luciano remarked. "I can have personal development which is something that I've always wanted, and I can do that because I will be able to work out with the coaches one-on-one."
Coming to America to play basketball will be a challenge for Luciano. The American style is more physical and fast-paced, compared to the Brazilian style which mimics the European and Argentinian styles of play.
"I will have to get used to the rhythm of playing," Luciano said. "When I visited the school, I participated in three practices. I got really tired because of all the running and intensity. It will be a challenge, but I will get through it."
Luciano's determination and perseverance can be a testament to any young athlete. He saw from an early age that he had the talent to go far and understood the importance and passion he had for the sport. Luciano has faced adversity, but never quit. He will never quit.
connect with us & get a guide
Contact Us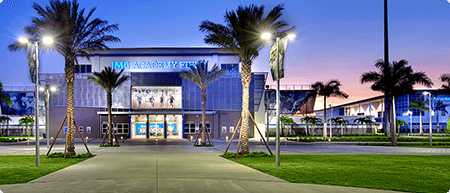 5650 Bollettieri Boulevard
Bradenton, FL 34210
Fill out the form below and we'll be in touch soon!
Request a brochure
We offer downloadable brochures about our boarding school, youth camps, adult programs, team training and pro/collegiate training in multiple languages.
Visit Us
Are you interested in touring the IMG Academy campus? Fill out the form below to submit a tour request and we will be in touch soon to confirm your request.