Catching up with basketball great Grant Hill at IMG Academy
This week at IMG Academy, Myla Hill, an aspiring soccer player has been taking her game to the next level with the IMG Academy Soccer Program's camp. However, her father, basketball great Grant Hill, was on campus to support his daughter and to check out the facilities. Hill announced his retirement from the game on June 1, leaving behind a legendary body of work.
Collegiately with the Duke Blue Devils (1990-94), Hill was a two-time national champion (1991, 1992); Henry Iba Corinthian Award recipient as the nation's top defensive player (1993); and the ACC Player of the Year (1994). He was then drafted in the first-round of the 1994 NBA Draft as the third overall selection. Professionally, Hill had a storied career that spanned 20 seasons with the Detroit Pistons, Orlando Magic, Phoenix Suns and Los Angeles Clippers. During that time he was co-Rookie of the Year (1995); a seven time NBA All-Star (1995-98, 2000-01, 2005) and a three time recipient of the NBA Sportsmanship Award (2005, 2008, 2010).
Hill may be retired from the game, but is still active in staying fit and excited about the future. We had a moment to catch up with Hill at IMG Academy after a workout to talk to him about his daughter's experience with camp, and what he's up to nowadays...
On why he is visiting IMG Academy...
My daughter is here for soccer camp. She found out about it, inquired about the camp over the internet, brought it to our attention - her mom and I - and we're down here. We live in Orlando, so it was an easy trip. Embarrassingly, I guess, my daughter is the reason I'm here. I'm just glad for her to get this opportunity, but for me, to get to come by and see what's here, what's available, what's offered and it is quite impressive.
On how Myla is faring at camp...
She's had a good week. She's tired, but she's worked hard. It's the first time she's been away from home or to an overnight camp, so I've been down here for three of the days to be here for her while she's going through it. I think it's been a good experience. She says she's gotten better, she's learning from some great coaches. I think just the experience of being at an overnight camp, around kids from all over the world and kids that are here trying to get better has been a positive experience for her.
On the value of hard work...
[Myla] was telling me that she was not the best player here, and maybe that's something that she's not used to and the fact that it has been hard. I think that is a good, valuable life lesson. First of all, life is not easy and you have to work at it. You have to see it and get a feel for the work required to be successful. We see athletes in all different sports here, busting their tails and working hard, trying to get better. Trying to really go for it and realize their dreams. You don't have that success unless you put in hard work, and that goes for anything. So I'm glad that she gets an idea and a better understanding some of the things that I went through. It wasn't like I just showed up and played. There was a lot of work that was required. I think all of that is valuable, whether she excels in sports or not, just to take some of those values from sports and competition and apply those to her life in general.
On his thoughts about IMG Academy's coaches and facilities...
The facilities are great. I think it's awesome that you have my daughter whose 11, and can get the experience, the level of coaching and level of care that a professional athlete would get. It's one thing for me to tell her, but to have coaches who are knowledgeable in the sport, to learn about nutrition, learn about mental aspects of competition, the strategy involved in her sport, and what's really involved with being a pro. Whether you can make it to that level or not, I think you should train to be a pro in anything you do. This has been eye opening for her, and for me, just to know this is here and this is what is offered. I just wish it was here 20-years ago.
On what was available when he was coming up through the ranks...
I think the level of sophistication with regards to training, with regards to skill development, nutrition, and all the things are emphasized here at this Academy. [Years ago] there was sort of a mindset or an attitude that weight training was not good for basketball players. It might throw off your touch on your jump-shot, and that was the school of thought in the early 90s. I think we've come a long way, and certainly IMG is one of the leaders. I can't think of anything that was available back then that was close to what's offered here.
On what he's up to now...
I'm excited that it's over. It was a long journey in terms of my career. But I'm very excited about the next phase and some broadcasting things I'm looking at some things that we're working on right now with some of the major networks, so that is something that can keep you in and around the game and around sports. I have a family office in Orlando, and we do a number of things - multi-family apartments, commercial real estate and we've been doing that for a while. Then I'm a partner in a fund; we have a mezzanine fund that invests in small businesses and raised a good amount of money. So there's some things in the business world, some things in sports. I look forward to being more active in the political process, fundraisers and things like that. There's a lot of things that I want to do, but I think right now, I just want to decompress a little bit and balance business with family and be a more involved parent - not that I wasn't before - but certainly as you guys at IMG Academy here knows, sports consumes you. So being a supportive husband and father is what I'm up to now.
connect with us & get a guide
Contact Us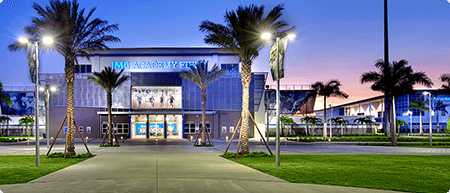 5650 Bollettieri BLVD.
Bradenton, FL 34210
Fill out the form below and we'll be in touch soon!
Request a brochure
We offer downloadable brochures about our boarding school, youth camps, adult programs, team training and pro/collegiate training in multiple languages.
Visit Us
Are you interested in touring the IMG Academy campus? Fill out the form below to submit a tour request and we will be in touch soon to confirm your request.