Catching up with Carlos Tercero

IMG Academy golfer, Carlos Tercero is one the up and comers in the golf program. The 14-year old joined IMG Academy from Mexico just six months ago and has seen drastic improvements. We were able to catch up with Carlos, and he filled us in on his progress at IMG Academy, his favorite video games and which teammate he wants to defeat!  

Carlos Tercero on…

…the biggest difference from six months to now.
My stroke and my back swing. I started my back swing to the left, and came down to the right and now it's a lot straighter.
 …his biggest strength.
Definitely my putting game. My longest putt is from 50-ft.
 …his latest tournament.
It was in Mexico, and I finished 1st! I shot an 82 the first day and thought I could play better. The second day I played amazing and shot a 75. I finished three-over and won the tournament
 ... his goal for 2013
To shoot even par.
...on his favorite music.
Eminem. I like his new album. My favorite of his songs is "My Life".
…on hobbies outside of golf.
X Box. I like playing Halo. The next one comes out next year, and I also play Call of Duty and [EA Sports'] FIFA Soccer.
…on something people don't know about you.
I've only been playing golf for a year and eight months.
…on what his dream is.
I want to be a pro golfer and wear the green jacket one day.
…on his favorite golfer.
Rory McIlroy, because he's young and just kind of came from nowhere. I can relate with him.
…on who he likes to play with at IMG Academy.
I like to play with everybody.
…on his biggest competition.
Kaito Onishi. He's really good, and I'm always trying to beat him. That's another one of my goals this year.
…on what surprised him most when arriving at IMG Academy.
I came here without knowing anything. So when I got here I was really impressed with everything. Compared with Mexico, everything is so big. The coaching here is so much better. Coach Grant [Price] takes a lot of time with my swing to help me.
connect with us & get a guide
Contact Us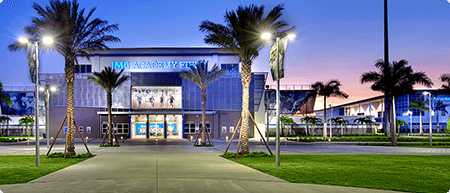 5650 Bollettieri Boulevard
Bradenton, FL 34210
Fill out the form below and we'll be in touch soon!
Request a brochure
We offer downloadable brochures about our boarding school, youth camps, adult programs, team training and pro/collegiate training in multiple languages.
Visit Us
Are you interested in touring the IMG Academy campus? Fill out the form below to submit a tour request and we will be in touch soon to confirm your request.