Catching up with Clark Robinson at IMG Academy

Despite winning three 1st team All-Conference awards, three 1st team All-State awards and one All-New England award in high school, Clark Robinson still felt like he had a lot of room to improve his golf game. He decided to forgo attending college for one year, and come to IMG Academy to improve and increase his chances of earning a golf scholarship. Coming from the state of Connecticut, he knew this would be a big transition, but it was the best thing for his future. That decision is now paying off after signing with Marshall University. Even so, he understands this is the beginning and the hard work is just starting. We pulled Robinson away from training to talk with him about his time at IMG Academy, his thoughts on the Masters and more.

Clark Robinson on… 
… his time at IMG Academy
I've gotten a lot better. I was probably a three handicap or two handicap before coming here and now I'm a plus one. I won my first tournament back in October, and I'm the points leader for the IMG Junior Golf Tour. So I've gotten a lot better and I got into Marshall, so things are good.
… improvements since coming here
I'd say straightening out my ball play. I used to play big draws, but now I've been able to straighten out my ball play and it's a lot easier to control. Its different here [at IMG Academy] because everyone is just as athletic. Connecticut is a lot smaller, and the competition here is a lot harder which is good. You have to get used to that competition.
… his biggest strength in golf
Driving the ball. I usually average over 310 [yards] on every drive. I've always had an advantage with the length and I prefer longer courses because my strengths come into play
… winning the HGJT Southwest Junior Open at Tara Reserve
I mean, it was during a hurricane!  There was a hurricane off the coast so it was really windy. If you kept your ball play low, you would do well. So I shot a 71 in the second round which was the only round under par  and I won by three. So it was good tournament and I hit the ball well.
… why he chose Marshall University
Couple reason. There's a first year coach and he has big plans for the future. By the time I'm a sophomore and junior we should have a pretty good team... We had some previous contact but not much until later. I have a NCSA profile and he viewed my profile like twenty times, so obviously he was interested. I contacted him and we started talking and he came to one of my tournaments. In that three day tournament I shot a 71, 77, 70, so he liked the way I played and he wanted me on the team. 
… the Masters
Adam Scott deserved to win. He clutched it out in the end, but I don't agree with the putter. I don't mind the belly putters, but the neck putters kind of get me. It just goes against the rules of golf. You're not allowed to anchor a club, and he's anchoring a club. I mean he's a good golfer, he's one of the best in the world, but the putter makes it easier inside of 10 feet. It's hard to miss once you've mastered it. It's fun to play with people that don't want to go pro because you can play better. Once you go to the anchoring its hard to go back to normal. Usually people go from normal putter to anchor, but once it gets banned, people will have to go back. So you might as well use the regular putter and get practice in.
… interests outside of golf
I play pretty much every sport. Growing up I played almost every single sport except lacrosse, but when I got to high school I had to make a decision between tennis and golf because they were in the same season. My soccer coach in freshman year was also the golf coach, so he recruited me and wanted me to play. Ever since, I played golf. But I also played some tennis in the winter and stuff. I'm a pretty good tennis player.
…talents outside of sports
I used to play an instrument back in middle school. I played the bass clarinet. I quit though… it probably had to do with image probably. [laughing]
… his favorite music
Everything but country, but I've been to a Brad Paisley concert. It wasn't for the music, but the actual atmosphere I went for. Then I went to Dave Mathew's concert. That was really cool.
… something people don't know about you
I'm good at all the weird sports. Pool, ping pong, darts… all the weird stuff I'm usually pretty good at.
Photo by: IMG Junior Golf Tour
connect with us & get a guide
Contact Us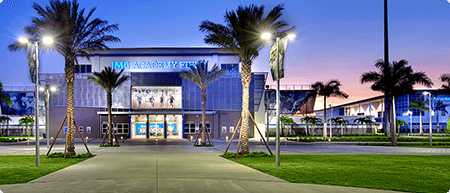 5650 Bollettieri BLVD.
Bradenton, FL 34210
Fill out the form below and we'll be in touch soon!
Request a brochure
We offer downloadable brochures about our boarding school, youth camps, adult programs, team training and pro/collegiate training in multiple languages.
Visit Us
Are you interested in touring the IMG Academy campus? Fill out the form below to submit a tour request and we will be in touch soon to confirm your request.