Catching up with Claudio Correa at IMG Academy

Since enrolling at IMG Academy for the 2012-13 school year, Claudio Correa of Santiago, Chile, has been working hard and seeing steady improvements in his game. In the past year, he has won two tournaments and notched six top-five finishes and seven top-10 finishes playing in the United States. Playing at home in Chile, the 18-year old University of South Florida commit was able to secure the title of Junior Amateur Champion in Chile with a four-under 140 playing at the Club de Golf Los Leones in Santiago, Chile, July 6-7. Correa's performance was good enough to give him a solid third place finish in the running for the Chilean Men's Amateur Championship, decided at the same event. However, perhaps the biggest sign of Correa's improvement over the past year is how he finished at the 2013 Callaway Junior World Golf Championship held in San Diego, Cailf., July 15-19. In 2012, Correa qualified for the storied event, but missed the cut. He did not let that deter him from qualifying again this year, and followed up by recording a solid ninth place finish, shooting a consistent three-over 291 with rounds of 71-72-77-71.
We had an opportunity to catch up with Correa at IMG Academy where he discussed his improvement over the past year, verbal commitment to the University of South Florida and his ping pong skills. 
On what he looks forward to entering his senior year...
I am looking forward to practicing more, improving my body, and increasing my golf abilities while getting ready for college.
On his training at IMG Academy...
The range facilities are amazing, and the people that you play with are really good, so you always have good competition and play with good players. In Chile, I have one friend who is really good, but if he's sick or something, then I'm playing alone. Here, that's not a problem. There's always someone to play with. 
On what he's improved on the most in the past year...
Definitely my putting and my approach. My irons and my driver have always been my strong point, but my putter, not so much. Now I'm making more of my putts. 
On winning Chile's Junior Amateur Championship...
It was cool, because I'm practicing here, and I go home and play so well. Training here is very good, because I can improve my a lot, because I go home and I play the course that I know really well.
On his top-10 finish at Junior World... 
Last year I played and I missed the cut, so that definitely meant a lot to me finishing like I did.
On his committment to the University of South Florida...
I made my verbal commitment this year. I like the weather here [in the Tampa Bay region] during the year. During the summer, it rains more in the afternoon and cools it off. Plus, Rigel [Fernandes] is there. I'm very good friends with Rigel so I'm looking forward to playing with him again. 
On what he likes to do in his free time... 
I like to play ping pong. I'm very good. That's my hobby. So I play ping pong, I like to go to movies and go to Chipotle.  
On how he found his latent talent in ping pong...
When I was at home and going to school in Chile, I played at school sometimes. They had tables set up. I just picked it up randomly. 
On his favorite movies...
I enjoy action movies, but like the realistic ones, not the ones that are too imaginary or hard to believe. Like I saw Fast and Furious Six, and some parts are really crazy, like the part with the plane that was going down the runway for what seemed like 30 minutes. 
On his plans for life after golf...
I want to go into business. My father is a business man, my brothers are in business, so that's what I want to do. 
connect with us & get a guide
Contact Us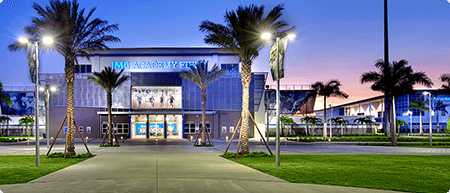 5650 Bollettieri Boulevard
Bradenton, FL 34210
Fill out the form below and we'll be in touch soon!
Request a brochure
We offer downloadable brochures about our boarding school, youth camps, adult programs, team training and pro/collegiate training in multiple languages.
Visit Us
Are you interested in touring the IMG Academy campus? Fill out the form below to submit a tour request and we will be in touch soon to confirm your request.