Catching up with Dr. Leon Melideo at IMG Academy
In 1984, the first-ever adult tennis program was held at IMG Academy. In the inaugural program, one attendee was Dr. Leon Melideo of Long Island, N.Y. Since then, Melideo has returned to train with the IMG Academy Bollettieri Tennis program each and every year, sometimes twice in a year, for a sunny Florida getaway, and to work on his tennis game. In his 30th consecutive year to visit, we caught up with Dr. Melideo to learn more about what keeps him coming back, get a first-hand account of IMG Academy's growth over three decades and more...
On why he keeps coming back…
"Being exposed to the program initially, it appeared that the coaches were very knowledgeable, very sociable and willing to take your game to any level that you prefer. Whether you're a real novice, or really advanced, they're more than willing to help you and give you advice and drill you, and make sure you really improve."
On his training goals…
"My goal is just to always improve, because a close friend of mine at home has world-class talent; we play frequently, and my objective is always to approach that level, even though we're not in the same class, so I strive to improve and get to another level."
On the growth of IMG Academy he has witnessed through 30 years…
"I've seen the whole thing evolve. From when it was about 15 acres, and it had six clay courts when you entered the facility… their objective even back then was to expand and mature the program… The most remarkable addition has been the [Athletic & Personal Development programs] in the 90s, because that, for me, makes it a premier world-class training facility. They have such a plethora of knowledge, from rehabilitating injuries to precluding injuries, and the staff couldn't be more helpful."
On training on the same courts the pros train on…
"I remember Mohammed [Chaouqi] once took me to one of the clay-courts, this was about seven or eight years ago, and I was watching Xavier Malisse play, and it's unbelievable how talented he is. I was maybe 12 or 15 feet away from him. I've also seen Maria [Sharapova] play, because she trained on the next court over from me three or four years in a row. Whoever is training here, it's a pleasure just to see them play, because you can't really appreciate the level of commitment that it takes to be at that level until you see it first-hand."
On the specific improvements he has seen in his game over the years…
"My footwork has always been a major liability, and the coaches here know that, and they always push me to work on that, and they would feed me ball after ball after ball to improve. Another thing they do here that I like is that they will record your work on camera, and conduct an analysis and go over your strokes with you. They've helped me with my overall game."
connect with us & get a guide
Contact Us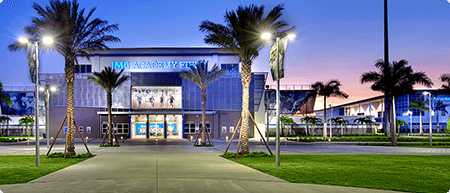 5650 Bollettieri Boulevard
Bradenton, FL 34210
Fill out the form below and we'll be in touch soon!
Request a brochure
We offer downloadable brochures about our boarding school, youth camps, adult programs, team training and pro/collegiate training in multiple languages.
Visit Us
Are you interested in touring the IMG Academy campus? Fill out the form below to submit a tour request and we will be in touch soon to confirm your request.