Catching up with Kaito Onishi at IMG Academy

At the IMG Academy golf program, Kaito Onishi's name is trending among the top junior golfers in the nation.  A native of Nagoya, Japan, Onishi lived in Los Angeles and Irvine, Calif. before coming to IMG Academy. Since then, the 14-year old has lit up the links, and recently won his first IMG Junior Golf event of the year in the Boys 11-14 Division at Julliette Falls, Mar. 2-3 after finishing second in two previous events.
Seventeen year-old and fellow Californian, Will Strauss, witnessed Onishi's talent first-hand at the IMG Junior Golf Tour's first event this year, the Kickoff at Sara Bay. Strauss had to come from behind to beat Onishi.  "He's scrappy, but an incredible competitor for an eighth grader," said Strauss in an interview with IMG Academy. "Can you believe it? He's 13. He's got a lot of potential to be scary good."
Onishi is already looking forward to next year at IMG Academy, so we caught up with him to learn about some of his goals for the year, which professional golfer he has trained with and more.

Kaito Onishi on…
… his favorite part about IMG Academy.
I like the mental toughness. It's really helping me, and the coaches are really nice. I also really like the chipping area. You can practice shots at like 50-yards, so that's really nice. Everyday my life is really busy; I go to school, and then I come here [golf], and when I go home, I study and prepare for tests. My grades are getting better than the first semester.
… his goals for 2013.
I qualified for [Callaway Junior World Golf Championship] since I won an event. I want to finish top-3 for that. Two years in a row I made Top-10. But my biggest goal is qualifying for the USGA. Tiger Woods won that a couple times. He's one of my favorites. His mental game is awesome. He's amazing.
…future goals and dreams.
I want to be a professional golfer, but I know it's very tough to get in there. I will try my best in one or two more years [to go pro] ... My parents want me to study more, but I want to be a professional golfer! So I will try as early as possible - around 16 [years old] will be the best.
… his favorite college.
I want to go to either UCLA or Stanford. They are both very good. When I was in California, I knew some guys that went to UCLA and they're really cool, and really good at golf.
… finishing No. 1 at Juliette Falls.
I did good. There are still things I need to work on, like my 50 yard chip. I wasn't happy with second [in previous events], so when I finished first, I was really happy.
… his favorite athlete.
Shigeki Maruyama, he's a Japanese golfer and he's won three times on the PGA TOUR. I've played with him a couple times, and his short game is amazing. He taught me a lot about the 50 yard shot - like where to put the ball in different situations.
… his favorite part about golf.
I just like to practice a lot. I believe that if I practice a lot, it will show in the tournament. I just don't want to waste a minute. I just want to practice a lot. I enjoy working with coaches here, and remembering what Maruyama taught me.
… his best shot.
Hole-in-one! I made one on the Hurricane Junior Golf Tour at hole 11. It was at 175-yards, with a back wind. That day I shot a 73 and made six birdies too!
… something most people don't know about you.
A lot of people know I work hard, but a lot of people don't think I hang out with my friends a lot, and I just work on golf all the time. But I hang out with my friends a lot.
… his friends.
I'm friends with Carlos Tercero. We mostly golf together. But we do homework together, hang out and play video games. Carlos has [Call of Duty] Black Ops and he's so good. I can't beat him, but I try to.
… Carlos Tercero saying one of his goals was to beat him.
[laughing] I just have to keep practicing and not get beat!
… what music he listens to before tournaments.
Just some Japanese music. It keeps my focus. The name is called Green. I don't know what [genre of music] it is, it's kind of traditional.
…his next big event.
I qualified for the second biggest tournament in Japan. The tournament is really strict, too. You have to know the rule book. Your shirt has to be one color. They can disqualify you easy. The biggest tournament is the AJGA. I missed it by one stroke. I use it for motivation, and I will try to qualify for that.
connect with us & get a guide
Contact Us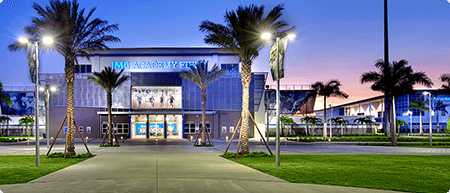 5650 Bollettieri Boulevard
Bradenton, FL 34210
Fill out the form below and we'll be in touch soon!
Request a brochure
We offer downloadable brochures about our boarding school, youth camps, adult programs, team training and pro/collegiate training in multiple languages.
Visit Us
Are you interested in touring the IMG Academy campus? Fill out the form below to submit a tour request and we will be in touch soon to confirm your request.