Catching up with National Merit Scholar Samy Ramadane at IMG Academy

IMG Academy student-athlete Samy Ramadane, is one of the school's most involved students. He's a member of the National Honor Society, named to the 2012 Homecoming Court, a Student Residential Mentor, a tutor to his peers and tireless in his community service endeavors. He accomplished all of this while maintaining a perfect 5.0 GPA in Advanced Placement classes. His most recent accomplishment was winning the National Merit Arkema Inc. Scholarship. Ramadane is also a first generation American of Morrocan descent. He is very appreciative of his life in the U.S., but revisits his Morrocan roots with summer trips to visit family.
We sat down with Ramadane to discuss becoming a National Merit Scholar, his Morrocan roots, his Harry Potter fandom and more.
Samy Ramadane on…
…being one of only 18 winners of a corporate-sponsored National Merit Scholarship.
It's nice to know that my hard work has kind of paid off. It's a great accomplishment because I was competing against high-schoolers from all over the nation. So it's good to see how I stack up against some of the smartest and most accomplished high-schoolers in the nation.
…his academic influences.
My parents are very successful people. They were born in Morocco with not much. The only thing that really helped them get to where they made it was their education. They had very supportive parents who also made sure to keep them on track, but they mainly did it on their own. And to see that is an accomplishment that I'll never achieve but definitely a mindset that's been instilled in me since I was little. 
…how he learned of IMG Academy.
Honestly, I'm not even sure! I came for a boys soccer summer camp right before 10th grade so four summers ago. I was looking for a place just to stay in shape and my mom and I were looking at camps. I had been going overseas to France to play and go to camps there. When we heard about IMG it sounded like a great place to stay in shape and sort of have a new experience. So I came down here for a week, and that's when I first got to know about it. I stayed in the dorms on main campus. The first time was just to stay in shape for my high school pre-season. I came back again the next summer, and I came closer to the beginning of the summer and they asked me to stay. I didn't really come down here with the notion that I would come here full time, but once the coaches asked me and he talked to my parents about it, and got to know more about IMG Academy, it sounded like the right place to be – Especially for soccer. Academically, they have a strong curriculum and I had to take some online classes to keep up with the curriculum to graduate on time.
… his aspirations with soccer and college.
I'm not sure. I'm thinking about going to Johns Hopkins or I might take a gap year and explore some other opportunities for college, or more opportunities for soccer. I've been accepted to Johns Hopkins Biomedical Engineering Program, and if I can defer the acceptance for a year, I can take a gap year and I won't have to reapply and can go in 2014.
…his hobbies.
If I was back home, I'd say soccer, but here soccer is part of my everyday life. I like running and swimming. I haven't been able to do as much swimming. I don't really get to do it here, but I love to snow ski. I love to fish, too. My uncle is very into fishing and when I was in Morocco that's something I would always do. We have a house next to the beach, and I love to get up in the morning, 4 or 5 in the morning, and go out with the local fisherman and catch huge fish. That's something I really like to do. My uncle was very into it, so that's how I got into it. Also I like to dance. I dance to anything, but I don't like country or metal music.
…his friendships built at IMG Academy.
I like hanging out with my friends a lot. Paul Sime, he's from Guadeloupe, and he lives in the same building as me. Mario Tinsley's a basketball player and he also lives in the same building as me. Paul's a soccer player. We go to the beach sometimes and play FIFA. With the IMG Academy experience, it's one of the biggest reasons I love it here. It's such an immersive place where all these different cultures come together. Having international heritage, it's just a great place for me to get to know new people from all over the world, and develop relationships I'm going to keep for years after here.
…his Harry Potter fandom.
I've read all seven books as soon as they came out. I've seen all the movies. In two years being here, I haven't had the chance to go to [The Wizarding World of Harry Potter at Universal Studios Islands of Adventure]. I went to Disney World a couple months before the Harry Potter Park was opened, so that was disappointing, but Disney World was really nice.
…his favorite soccer player.
I do like Chamakh. Of all time, my favorite soccer player is Pele. Growing up he was the first player my dad told me about. I saw a lot of videos of him. My dad grew up watching him play, and once I saw him play, I just thought he was an amazing player and his style is beautiful to watch. Right now, I would say Ronaldinho even though he's not at his peak anymore. When he was at his peak, he was also an incredibly talented and creative player and that's sort of the same style I saw in Pele. When I was little, I used to play forward, but now I play more as an Attacking Center-Mid. I prefer Attacking Center-Mid.
…something people don't know about you.
I speak Arabic, but I can't roll my Rs [laughing]. Just like Spanish, in Arabic, you need to roll the Rs. English and Arabic are my two languages. I learned them both at the same time. Arabic with my family, and English just from being at school and around other people.
connect with us & get a guide
Contact Us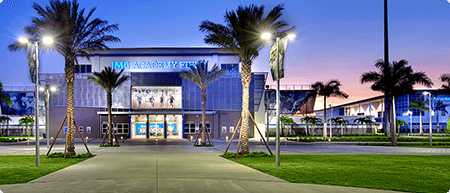 5650 Bollettieri Boulevard
Bradenton, FL 34210
Fill out the form below and we'll be in touch soon!
Request a brochure
We offer downloadable brochures about our boarding school, youth camps, adult programs, team training and pro/collegiate training in multiple languages.
Visit Us
Are you interested in touring the IMG Academy campus? Fill out the form below to submit a tour request and we will be in touch soon to confirm your request.