Catching up with Qi Wen Wong after his win at the IMG Academy Match Play Tournament

In his third year at IMG Academy, Qi Wen Wong has begun to come into his own. Playing on the IMG Junior Golf Tour, Wong finished in the top-three, five times and made the AJGA qualifier at Innisbrook. A native of Singapore, Wong came to IMG Academy with almost no coaching, and a swing that took nearly six months to correct. Three years later, he has become one of the most consistent performers in the program. We sat down with Wong to hear about his recent victory during the match play competition, his hole-in-one, going into the military, and more.
 Qi Wen Wong on…
…winning the match play competition
I never expected to win it. I was second seed in the field of 32. I expected to go to the semifinals, but never win. I don't think match play is my strongest format. I've never really done well in match play. I just tried to take each match one by one. You play one guy 18 holes, and when you beat him you play the next person. I played five matches total. We actually went to a playoff. It was really close. It was against Pepe Montano. He's a really good player. I was four up after 11 holes. I struggled afterward and he hit a few birdies. I was actually down one [stroke] going into the last hole. It was a par five, and I hit the green in two [strokes]. I had 20 feet for eagle, so I just two putted it in to force a playoff. In the playoff, I had the honor since I made the birdie on 18 and I hit a decent drive in the right rough, and he just bombed his right in the middle of the fairway, so he had the advantage. I pulled my next shot, but I wasn't sure if it carried over the bunkers. When I walked over and saw the ball on the green I let out a huge sigh of relief. He pushed his second shot to the right, and then chipped it to about 10 feet from the hole. I had a 50-footer and putted it within two feet, which I made. And he ended up missing his putt.
…his hole-in-one
It was during the college format competition. We split into teams. It was a par-3, and it was my second hole of the day. I actually had no warm up. The hole was 180-yards, so I used a 5-iron. The pin was tucked to the right, so I tried to play a fade. Once I hit my shot I couldn't see the ball, but I knew it was going to be close. When I drove around in my golf cart I didn't see any ball on the green, so I thought it might have gone in. I checked and was so excited. I gave my opponents and partners high fives and chest bumps.
…his time at IMG Academy
It's a very good experience. I've got to meet new people and learn about different cultures. At IMG [Academy] there are different kinds of people, people from all around the world. So you get to hear and pick up on different languages. I've picked up on a few Spanish words and I take French in school. All in all, it's been a great experience.
…interests outside of golf
School and golf are my first two priorities. I like math. I find that subject very interesting. There are so many formulas and so many ways to solve a problem.
…his future
Before I can go to college I have to go back and serve in the Singapore military. Everybody has to for two years. For the first three months, you go through basic training where they split you up in platoons and you train physically. The remaining months, they put you into a department. You may be posted in the fire department, police force or even the Navy if you are really fit. I think that I might get to still play golf on the weekends if I'm lucky. It also depends what department. If you are just a normal recruit, it would be hard to find time to practice. But if you get an office job you can go back every day after six and then you can practice. Every single male citizen must do this, there's no way of getting around it – not even the President's son.
… living in Singapore
Recently they built a big casino which is attracting a lot of people. But Singapore is known for being the cleanest city in the world. There are a lot of regulations that we have to follow. An example would be that you can't buy gum in Singapore. You can chew it, but you have to get it outside the country.
… what he misses about home. 
I miss my family and food the most. A lot of it is Chinese. Singapore is diverse. There are Indian people and Westerners so it's unique.
…his friends at IMG Academy
I hang out with Hunter Pauley. He's from Montana. He's in my golf group and we workout together. Occasionally we play golf together or catch a movie.
.. his favorite music
I like pop, rock and rap a lot. I like 2 Chainz and Eminem - artists like that, because it pushes you in training. It eases your mind and motivates you.
connect with us & get a guide
Contact Us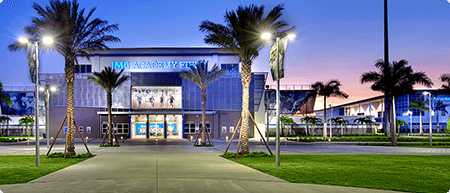 5650 Bollettieri BLVD.
Bradenton, FL 34210
Fill out the form below and we'll be in touch soon!
Request a brochure
We offer downloadable brochures about our boarding school, youth camps, adult programs, team training and pro/collegiate training in multiple languages.
Visit Us
Are you interested in touring the IMG Academy campus? Fill out the form below to submit a tour request and we will be in touch soon to confirm your request.