Catching up with RE/MAX Long Drive Championship winner and IMG Academy trainee Tim Burke

IMG Academy Golf trainee Tim Burke of Orlando, Fla. won the RE/MAX World Long Drive Championship last week. Burke, who has been training with IMG Academy's coach Mark Rummings for the past six months, crushed a number of 400+ yard balls, including a 427-yard shot, to claim the title. For his performance, Burke collected a number of prizes in the winner-take-all event, including a grand prize of a $250,000 check. Recently, we were able to catch up with the Orlando, Fla. native to ask him about winning the Long Drive Championship, training at IMG Academy and the effects of winning the title. 
On the experience of the Long Drive Championship...

It was really, really intense. I'm really a visualization-type person, which probably comes from my baseball background, so I usually try to picture moments before I compete to get an idea of what to expect. So if I do get a little nervous or anxious, I can be prepared somewhat. But there was no way I could have prepared for [the Las Vegas Motor Speedway] in any way. My first time going there, we were standing beneath the stands, and it sounded like we were at a Florida State against the University of Florida football game. It was crazy. But the grid, luckily, really suited my eye and upped my chances. When I was practicing the night before, I was hitting it even better than I did at the event. Even on my 405-yard ball, I didn't hit it well, but on that last ball, I knew I hit it dead-center and that's why I reacted the way I did. 

On working with Mark Rummings at IMG Academy...

I was doing a golf tournament at Busch Gardens, and I had a chance to go play at Innisbrook, and Mark was one of the people that was in our group so we were talking, and he knew I was in the Long Drive and we started working together. He is really into the numbers, and he has a really good way of how to change and correct your swing. When I first started, I had a tendency to hit it over the top a little bit, and I used to swing left and down, so my attack angle was a negative-two, and I was hitting it down. You typically want to hit plus-power, you want to be around plus-three and swinging up at the attack. That's ideal for me. So I started going to IMG Academy as much as I could on the weekends to work together and practice and help me get that sensation of hitting with repetition. It was great to help me like he did, because he didn't have to offer his help. 

On the facilities at IMG Academy...

It's just incredible. Everything is top-of-the-line. I mean, there's a Gatorade lab there (Gatorade Sports Science Institute), I mean, that's something special. ... I hope the students appreciate what they're getting there. Especially looking at it now that I'm older, man, I would have killed to go to a school like that. It provides you the best opportunity, and it's in your hands at that point. You go to class, you work hard, and it's in your hands and you should be able to maximize your potential in the athletics that you're playing. It's an unbelievable place. 

On his sports background...

I always played baseball and basketball. I played in college at the University of Miami as a pitcher, and then I graduated and my baseball career ended. Although I had always played golf with friends. Then one of their buddies who played golf as a career was in our group, and I noticed that I was right on his heels all day, so I decided to give it a try with qualifying for professional events. 

On his introduction to golf...

I started playing when I was working at a golf course. It was part of an internship before I graduated at Miami. So I was down in Coral Gables and started playing all the time. 


On his sports role models...

I'm a big fan of Tiger [Woods], he's incredible to watch in terms of how he took the game to the next level, and I look up to a lot of other players like Dustin Johnson and Jason Day. Outside of golf, of course there's Michael Jordan. He's the best that ever lived. 

On the changes he's seen since winning 

I've gotten hundreds of phone calls, hundreds of text messages and hundreds of e-mails since winning the Long Drive. I'm just taking it day-by-day. It's still kind of surreal and it hasn't totally sunk in yet. I still have a day job though, I'm a financial wholesaler in securities, so I'm trying to see what's going to happen with that. Although, once you have a world championship, it's much easier to get the management and representation that you need because you have that title. So hopefully some changes will happen, but I'm hoping for the best. 
Shortly after sitting down with us, Burke appeared on the Golf Channel Morning Drive to deliver long drive tips of his own, and gives a shout out to Mark Rummings. See the entire appearance below:  
connect with us & get a guide
Contact Us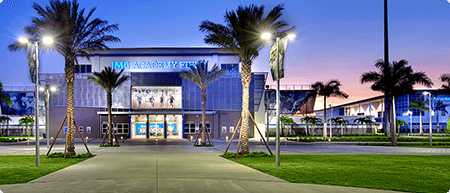 5650 Bollettieri Boulevard
Bradenton, FL 34210
Fill out the form below and we'll be in touch soon!
Request a brochure
We offer downloadable brochures about our boarding school, youth camps, adult programs, team training and pro/collegiate training in multiple languages.
Visit Us
Are you interested in touring the IMG Academy campus? Fill out the form below to submit a tour request and we will be in touch soon to confirm your request.