Champions emerge at 2013 Nick Bollettieri Discovery Open at IMG Academy; Finals results
A weather delay could not stop the 2013 Nick Bollettieri Discovery Open from crowning eight deserving champions. Following round robin format pool play to determine the top two players in each division, the top two players from the Boys and Girls 9s, 11s, 13s and 15s met in the finals over Monday and Tuesday to reach a conclusion. One of the more notable matches of the event was when identical twin brothers Faris and Zane Khan of New Braunfels, Texas faced off for the Boys 11 title. Over the first three days of the event, the Khan brothers were nigh unstoppable, double-bageling all but one of their opponents. In the final, the only thing that could stop the Khans was themselves. In the final match, Faris and Zane took the court and waged an intense battle, with Faris taking the match over his twin, 6-1, 3-6, 6-0. Additionally, Axel Nefve, the No. 2 player in the US in Boys 12s lived up to his ranking, and cruised to the Boys 13s title over Brazil's JP Fujiwara, 6-1, 6-1. 
On the girls' side, the most exciting final took place between South Florida's Emma DeCoste (Stuart, Fla.) and Julia Vulpio (Boca Raton, Fla.). DeCoste and Vulpio entered the match each ranked as a top-three player in the state of Florida for their respective classes, and their showdown did not disappoint. The two fought for every point over three sets, but ultimately Emma DeCoste walked away with the title by a score of 6-7, 6-3, 6-3. Brooke Lashway of Bradenton, Fla. and  Nandini Das of India met in a rematch from the opening day of competition. On Friday, Das won the day by a 6-2, 6-3 score. However, in the final, Lashway got the best of Das and walked away as the Girls 15s Discovery Open champion. Lashway is considered a four-star prospect for the Class of 2016, but added to her growing profile with the Discovery Open title. 
The division awards were given out by legendary coach Nick Bollettieri. However, for their extraordinary performance on the court during the event, the Faris and Zane Khan were recognized as the Gatorade G-Award winners for the 2013 Discovery Open for their heart, hustle and soul displayed over the four day event. Winners from each age bracket earned an invitation to return to IMG Academy for a week of tennis camp, where they will get an evaluation from Nick Bollettieri and other IMG Academy coaches. By attending the tennis camps, participants will have the opportunity to earn a full academic and sport scholarship to IMG Academy. 
With the support of IMG Academy sponsors Gatorade, Prince, SPRI and ALINE, the event provided an educational training and playing experience for players and parents alike. Gatorade provided the latest in sports performance fuel and products. Prince held seminars on racquet technology and equipment for participants, and provided Prince strings to players. Each age group winner took home a SPRI Tennis Kit, which was developed by the IMG Academy Athletic and Personal Development staff. Additionally, ALINE offered all participants free foot and leg alignment assessments. With the help of sponsors, and the contributions of IMG Academy coaches and Athletic and Personal Development staff providing resources such as leadership sessions; on-court strategy and tactics lessons; and panel discussions on what it takes to be a champion, each player and their parents were given access to the same resources that are available to IMG Academy student-athletes year-round, so that they can further develop their talents in the future.  
Finals results: 
Girls 9s 
Bianca Fernandez def. Nyjah Head,  4-2, 4-1
Boys 9s 
Ozan Colak def. Uy-Quoc Vo, 4-0, 4-0
Girls 11s
Leylah Fernandez def. Sapir Sela, 6-2, 6-1
Boys 11s 
Faris Khan def. Zane Khan, 6-1, 3-6, 6-0
Girls 13s 
Emma DeCoste def. Julia Vulpio, 6-7, 6-3, 6-3
Boys 13s 
Axel Nefve def. JP Fujiwara, 6-1, 6-1 
Girls 15s
Brooke Lashway def. Nandini Das, 6-4, 6-4
Boys 15s
Denis Afanasev def. Pedro Uribe, 6-1, 6-1

Photos of the awards presentations: 
Photo by: IMG Academy
connect with us & get a guide
Contact Us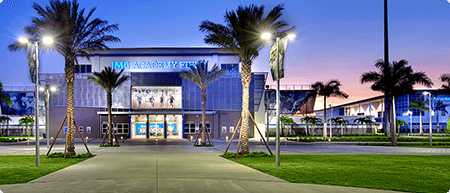 5650 Bollettieri BLVD.
Bradenton, FL 34210
Fill out the form below and we'll be in touch soon!
Request a brochure
We offer downloadable brochures about our boarding school, youth camps, adult programs, team training and pro/collegiate training in multiple languages.
Visit Us
Are you interested in touring the IMG Academy campus? Fill out the form below to submit a tour request and we will be in touch soon to confirm your request.