Closing Out IMG Academy's 2017 Football Season
A season that started on the west coast of the country and continued through all four time zones to yield a 9-0 record - a feat in itself. What about continuing an undefeated streak that began in 2015? Almost unheard of. They balance academics, practice time, rest and recovery, and the team culture - sounds similar to a collegiate season, but IMG Academy Football (Blue team) endured all of that, and more. 
"The two weeks off due to hurricane [Irma] were challenging," Head Coach Kevin Wright said. "But our last game against Bishop Sullivan really put an exclamation point on a great year."
With a two week hiatus from any conditioning, practice time, or team meetings towards the beginning of the season, in addition to the inability to predict who the storm may affect and when, IMG Academy football truly bounced back from a nearly devastating situation. Upon their return to campus, the team faced Miami Central, a top five team in Florida according to Max Preps, and clinched the win as if they hadn't skipped a beat. What could have been detrimental to the season actually "showed us what we were capable of," Wright said.
With that, the Blue team knocked off teams left and right, taking out defending Alabama state champions, Hoover, on the road to wrap up the undefeated season. Holding on to their 37 game win streak and third straight undefeated season, this team's core is stronger than ever.
Amongst a group of talented student-athletes, the team's defensive linemen may very well be considered some of the best in the country.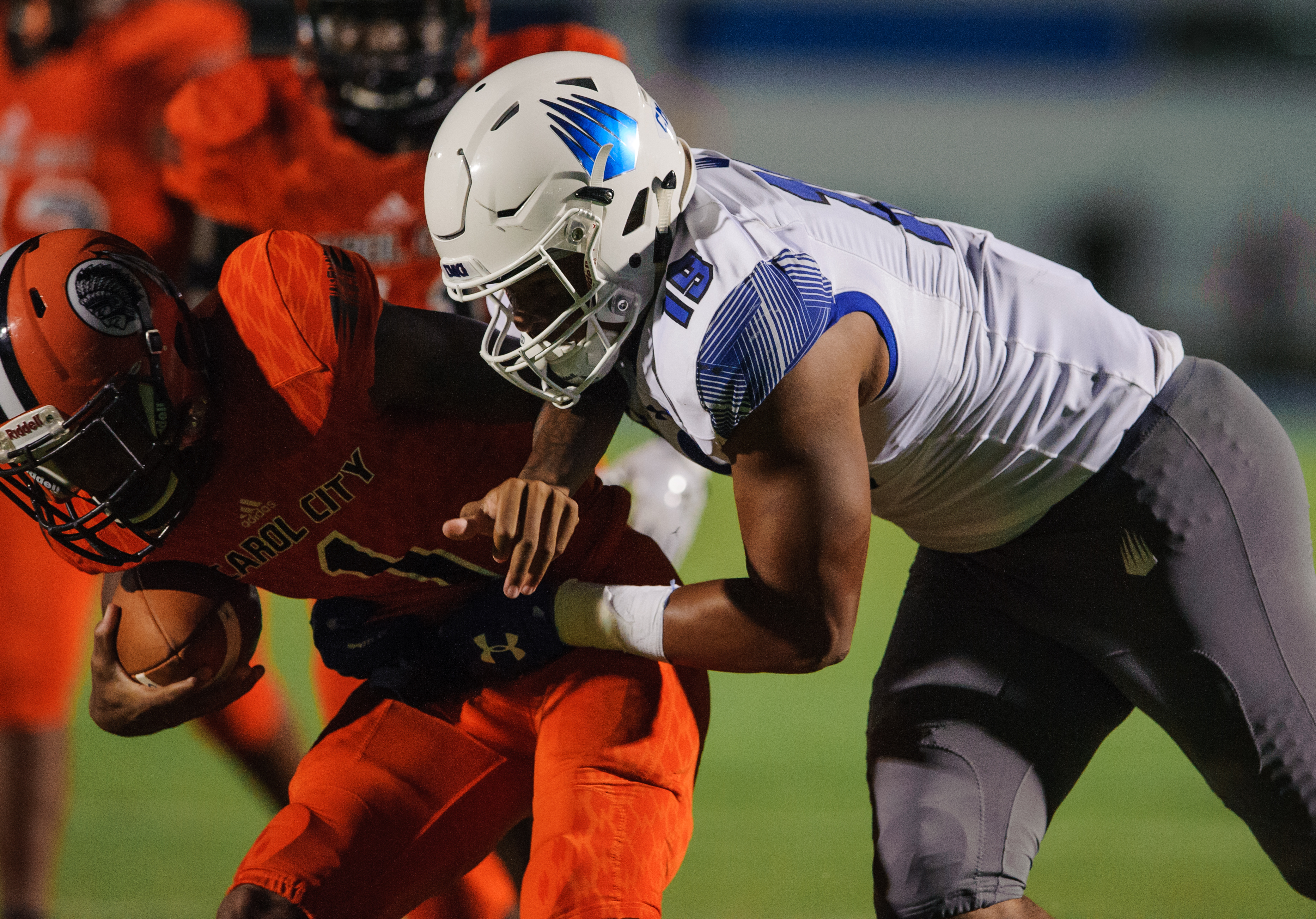 "Xavier Thomas, Nolan Smith, and Taron Vincent are all special players and why our defensive line is so strong," Wright said. "There were eight players in this group, but these three were true leaders."
Vincent, a senior, led the team with 37 solo tackles, with Smith, a junior, following at 28, and Thomas, a senior, finishing out at 25. Vincent also led the team in total tackles, with 53 to end the year. 
"This was Taron's second year starting, and he disrupted offenses systematically where that doesn't normally happen," Wright said. "He really made an impact."
Thomas, ESPN's top Florida recruit for the 2018 class, remained incredibly dominant this season while Smith, who's the top Florida recruit for the 2019 class, held his own on the field and "was every bit as good this season" according to Wright.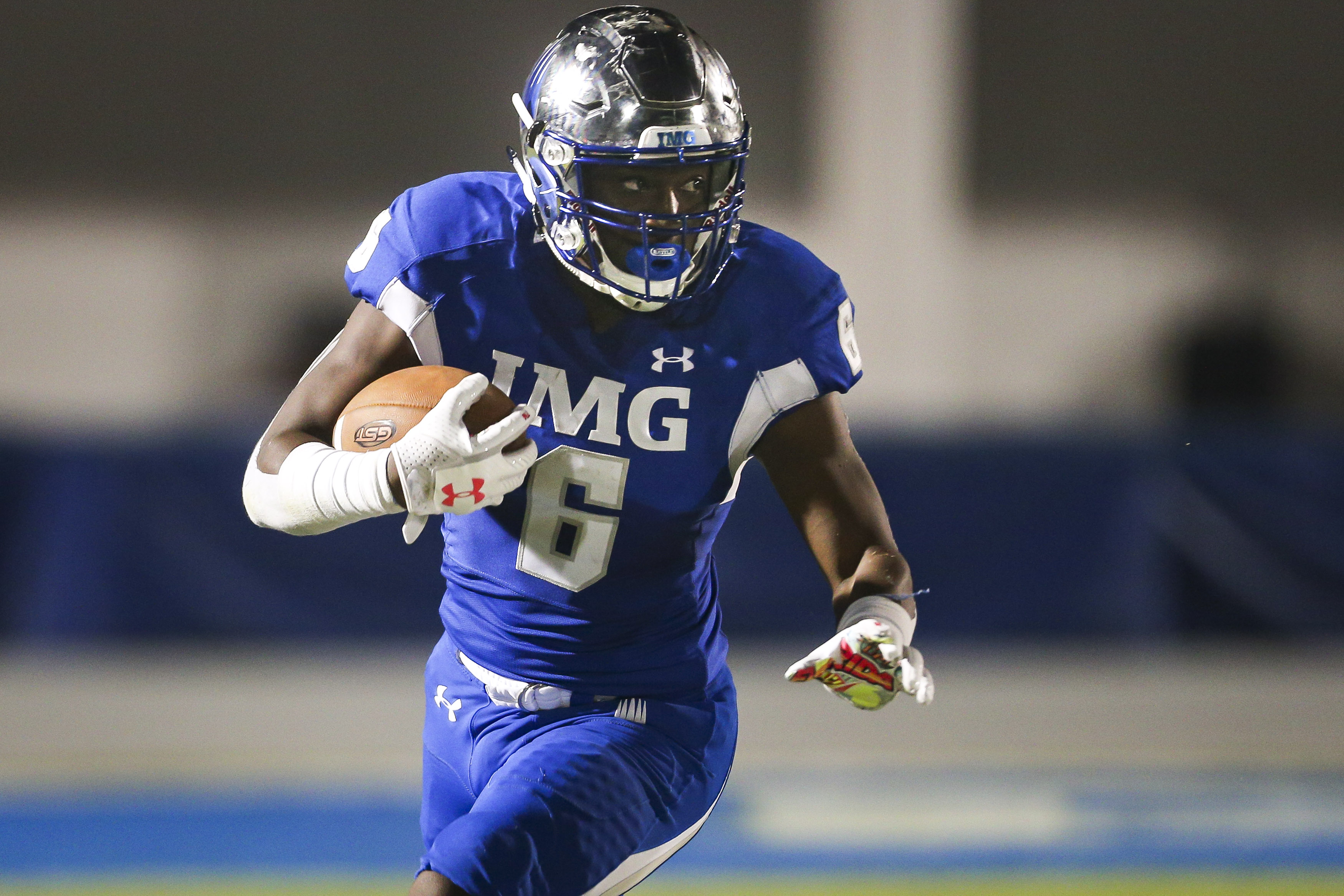 On the offensive side, Trey Sanders, who's rated just behind Smith for the 2019 recruiting class, found a way to turn several close games in IMG Academy's favor. Sanders led the team with 704 rushing yards, with 88 rushing yards per game, according to Max Preps. As a junior, Wright believes he was arguably the "most valuable player on offense for the majority of the season."
Additionally, Brendan Radley-hiles tied Saivion Smith's 2014 single season interceptions record, coming in at five on the season. This year's group of talented athletes culminated a top-notch season and inked Wright his current 212-63 all-time record.
As the top-ranked team in the state, according to Max Preps, and No. 2 in the country, according to USA Today's High School Sports, IMG Academy overcame what could have been a detrimental mid-season pause and continued their rise. As the season has come to a close, off-season conditioning inclusive of strength and speed training and APD sessions wrap up the year. We look forward to seeing our seniors achieve the next level of success and to watching underclassmen work their way towards that level as well.
connect with us & get a guide