Cruzeiro, top Brazilian soccer club, visit IMG Academy!

Yesterday morning, soccer camp participants at IMG Academy had very special guests when professional Brazilian soccer club Cruzeiro stopped by amidst its pre-season training in Orlando, Fla. While Brazil hosts the quadrennial FIFA Confederations Cup from June 15-30, Cruzeiro fills its seasonal gap by playing exhibition games on a U.S. tour.
Representing Cruzeiro, Ricardo Villar coordinated with IMG Academy's Director of Boys Soccer Scott Dean and Soccer Business Manager Matt Baehr to facilitate a club team trip to visit IMG Academy and the Gatorade Sports Science Institute. Villar admires the balance of sports and academics provided to student-athletes at IMG Academy, so the visit was an opportunity to expose Cruzeiro players to a perspective of soccer at IMG Academy unlike Brazil's system.
"You don't get to study in Brazil," Villar said. "You either choose sports or education, which is a sad concept. Here, you have the opportunity to do both, which is great for your future. In Brazil, you almost have to sacrifice your youth for the game. It becomes almost a gladiator-like system."
Villar emphasized the significance of education and pursuing a college degree, as only a select few go on to play professionally. He reflects on his experience with the Nittany Lions, referring to it as a game changer and a blessing.
"In Brazil, I didn't have the same focus on education as I should have had," Villar said. "I didn't know what I was learning until I came to the university."
The opportunities to earn an athletic scholarship, graduate with a degree in production engineering and have a professional career after college shaped his passion for providing youth in Brazil the chance to follow their sports dreams without sacrificing their academic development.
"My biggest accomplishment has been inspiring the youth by showing them that there is a way to follow your dreams if you truly focus and have a plan," Villar said. "I kind of have had an alternative career. I wasn't the big star when I was young, but I found ways through will to get into the field, play for teams and create a career. Inspiring kids is important to me and I think that's what I can give back the most out of my career."
Villar is the Director of International Relations at 2SV Sports, a leading sports-academic exchange company, and a former Brazilian footballer. He retired last season and played professionally for twelve years as an attacking midfielder for teams in the United States; Austria; South Korea; Germany; and Greece. He also played for São Paulo FC before playing four years and served as team captain at Penn State University. The former NCAA All-American was named Soccer America's MVP in 1999 and 2001 and speaks English, German, Spanish and Portuguese.
Just in the past six years, Villar has helped place over 360 players from Brazil in colleges in the U.S. on an athletic scholarship.
"I think it's rewarding to see the kids evolving, getting jobs in Brazil that they wouldn't typically otherwise get and starting new lives in the States," Villar said. "I want to leverage sports and the technical ability of Brazilian players. In other words, it's a tough challenge, but my goal is to change the athletic and education system in Brazil."
Having trained at IMG Academy during pre-seasons in the past, Villar praises IMG Academy as a world-renowned program and sports complex that cannot be found in any professional club in Brazil. He hopes to further develop a relationship with IMG Academy and mirror its program in Brazil to change the academic and athletics culture into one that provides a more promising future. Through an improved education system, Brazilian children will have the chance to become something greater in life beyond playing soccer. Villar plans on returning to IMG Academy with Cruzeiro next year to see the completion of the new multi-sport facility and discuss future possibilities of collaboration.
"For the players to see IMG Academy first-hand is amazing," Villar said. "It's the best place in the world for a kid growing up and playing sports to be in."
In addition to touring the campus, Villar and members of the Cruzeiro team; including Raposão, its giant fox mascot (pictured left, juggling the ball with campers on Tuesday), and Marcos Venâncio de Albuquerque, commonly known as Ceará, its top footballer; played soccer with and spoke to the IMG Academy campers.
Ceará is a right wingback that has played on various professional soccer clubs since 1999. In 2003, he led Cortiba to win the Campeonato Paranaense and in the following year, he helped São Caetano take the Campeonato Paulista title. Two years later, Ceará helped Sports Club Internacional win its first Copa Libertadores as well as defeat FC Barcelona in the finals at the FIFA Club World Cup later that year. Signing with Paris Saint-Germain in 2007, Ceará helped the team win the Coupe de la Ligue. He played for Paris Saint-Germain for more than five years before signing with Cruzeiro earlier this year.
IMG Academy soccer camper Thomas Savoia from São Paulo enjoyed the presence of Cruzeiro at IMG Academy with his peers. He was inspired to see top players in the same place that he is training in to improve his soccer skills.
Cruzeiro, the only Brazilian team to win the domestic triple crown of Brazilian football and the second overall most successful Brazilian soccer club, will return to Brazil on Sunday upon the completion of the Confederations Cup final. The club looks to play Portuguesa de Desportos away at the Canindé Stadium in São Paulo on Saturday, July 6.
Photo by: IMG Academy
connect with us & get a guide
Contact Us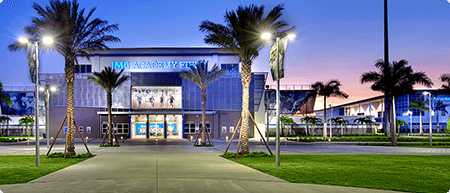 5650 Bollettieri BLVD.
Bradenton, FL 34210
Fill out the form below and we'll be in touch soon!
Request a brochure
We offer downloadable brochures about our boarding school, youth camps, adult programs, team training and pro/collegiate training in multiple languages.
Visit Us
Are you interested in touring the IMG Academy campus? Fill out the form below to submit a tour request and we will be in touch soon to confirm your request.