Danvers' Andreas meets Tebow, named 'All-Madden' at IMG Academy
It was a busy and productive offseason for Danvers High football player Matt Andreas.
Andreas was recently named to IMG Academy's "All-Madden Team" after attending a football camp on the Bradenton, Fla. campus in July. That honor came just months after getting the thrill of his young football life.
During a workout at IMG Academy in April, Andreas had a chance meeting with Tim Tebow, his favorite football player. He ended up running routes and catching passes from Tebow.
"That was the best moment of my life. Tim has always been my role model and always my favorite player, ever since he first went to (the University of) Florida," the 14-year-old Andreas said. "To meet my hero was incredible."
Andreas was on the sidelines with his father when Tebow arrived at the field to work out with Chris Weinke, IMG Academy Director of Football and the 2000 Heisman Trophy winner from Florida State University. Weinke invited Andreas join Tebow, and the Danvers resident became one of two receivers for the 2007 Heisman Trophy winner.
Tebow was cut by the New England Patriots just a few days ago, but Andreas feels like he's a capable NFL quarterback.
"He was spot on," Andreas said. "I don't see how anyone says he can't throw. His motion looked perfect and he had dead-eye accuracy. His first throw was a slant and he threw it so hard it pushed my hands back and hit me in the face."
Andreas ended up working out with Tebow for about an hour-and-a-half. Then, when he was walking off the field, Tebow sent one of the coaches over to Andreas with a signed football.
"Toward the end we talked for about 20 minutes and he signed the football for me. We were talking about what I'd like to do in the future. He took pictures with me and my dad," Andreas said. "Half the people in the NFL wouldn't have worked out with a 14-year-old. He was so nice and treated me with respect, like an adult."
Only a freshman at Danvers High, Andreas doesn't play football like someone that young. It's expected that he will make a contribution on the varsity team this fall (where his older brother Nick Andreas, a junior, is the Falcons' starting quarterback).
He certainly made his mark at the All-Madden Mini-Camp at IMG a couple months ago. Playing primarily with high school upperclassmen, Andreas earned one of 25 spots on the "All-Madden Team", being chosen for the offense as an athlete.
"I was stunned," Andreas said about the award. "I was speechless. I was so happy; it was just incredible."
The camp was invitation only and lasted for three days. During that time the players had classroom sessions that lasted about an hour, then headed to the field for positional drills before playing 7-on-7. Lineman were added toward the end of camp, according to Andreas.
Playing against older, more seasoned players improved the overall experience for Andreas.
"It was hard, but it just helps me get better competing with older people," Andreas said. "I thought I did pretty well. The coaches seemed to really like me. Chris Weinke and (former NFL QB) Vinny Testaverde were there, and it was great to learn from them. Both seemed to like me and I was hoping that I was on the team, but I wasn't sure. I was very, very pleased to find out I was."
IMG Academy is a school that combines elite instruction both in the classroom and in athletics. Andreas has now been to four camps at IMG and has loved the experience.
"The first time I went was in sixth grade," Andreas said. "My dad found them on the internet and I found it was one of the best (football) camps and one of the best experiences I've had."
Nick Andreas was also invited to the All-Madden Mini-Camp. The brothers were also selected for the Football University Top Gun camp in Dublin, Ohio this summer, and Nick also received an invitation to the Nike Elite 11 camp held at Ohio State.
Matt Andreas is excited about getting the chance to play with his big brother this fall.
"It's a dream come true. I've always wanted to play with Nick. He is one of the best quarterbacks in all of Massachusetts in my opinion," Matt Andreas said. "It's so good to be on the field with a player like him. He really elevated my game."
Credit to: The Salem News
connect with us & get a guide
Contact Us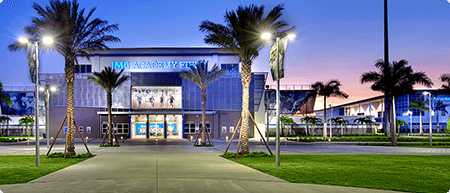 5650 Bollettieri Boulevard
Bradenton, FL 34210
Fill out the form below and we'll be in touch soon!
Request a brochure
We offer downloadable brochures about our boarding school, youth camps, adult programs, team training and pro/collegiate training in multiple languages.
Visit Us
Are you interested in touring the IMG Academy campus? Fill out the form below to submit a tour request and we will be in touch soon to confirm your request.