Defending CFL Grey Cup champions hold mini-camp at IMG Academy

The CFL season does not begin until June 27th, but the Toronto Argonauts are already preparing to chase a repeat. After defeating the Calgary Stampeders to win the Grey Cup last year, the Argonauts knew they needed to continue their hard work throughout the offseason. This week they traveled to Bradenton, Fla. to train at the world-class facilities of IMG Academy for mini-camp. The four day mini-camp wrapped up on April 30.
The Argonauts brought a large group of rookies and a select few veteran quarterbacks. The team did a variety of drills including one-on-ones, agility workouts and position specific drills to evaluate the youth on the roster. Each of the players on the field were fighting for a spot at the Training camp that will take place before the season begins.
Last year's Coach of the Year, Scott Milanovich, was doing a lot of evaluating in order to make important roster decisions, and get his team ready for June, "We're just trying to get our team ready and find out the guys we want to take. These are a lot of the young guys that we worked out in the offseason. We only take about 20 of these guys to the actual training camp so we have to sort through."
The players practiced twice a day at IMG Academy. Although many were fatigued, they were taking every practice seriously, and their competitiveness showed. There will be many difficult decisions for Milanovich and his staff to make as they continue to prepare to defend their 2012 Grey Cup championship. 
Scenes from Argonauts mini-camp: 
connect with us & get a guide
Contact Us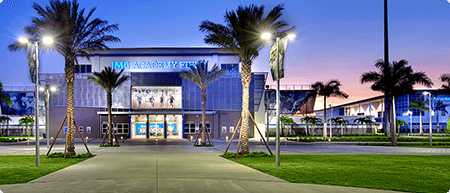 5650 Bollettieri Boulevard
Bradenton, FL 34210
Fill out the form below and we'll be in touch soon!
Request a brochure
We offer downloadable brochures about our boarding school, youth camps, adult programs, team training and pro/collegiate training in multiple languages.
Visit Us
Are you interested in touring the IMG Academy campus? Fill out the form below to submit a tour request and we will be in touch soon to confirm your request.