Dymatize collaborates with IMG Academy to give NBA Combine/Draft Training program the cutting edge

Thursday, June 27, is a day like any other for most people, but for a select few, that day is everything: the NBA Draft. This is the day when former collegiate basketball players will know if the time and hard work will be rewarded with a coveted spot on a team in the National Basketball Association. At IMG Academy, athletes in the NBA Combine/Draft Training program have been maximizing their preparation time leading up to the draft since finishing their collegiate careers. Speed and movement; strength training; and nutrition are just a few areas in which the players work to improve during their time at IMG academy. While the soon-to-be professional athletes are pushing their bodies to new heights, the IMG Academy nutrition staff and Dymatize, a leading producer of sports nutrition supplements, have been working together to provide the most innovative and effective supplementation program available to ensure the athletes are maximizing their gains.
"We are passionate about empowering professional athletes to reach their performance goals and, through collaboration with the IMG nutrition staff, we have identified the most relevant and effective supplements for the NBA hopefuls," remarked Dr. Robert Wildman, Chief Science Officer, Dymatize. "We are thrilled to be able to have a positive impact with IMG professional athletes, and are looking forward to developing new products to enhance their training at the academy and throughout their professional careers."
The NBA trainees at IMG Academy train six days a week for nearly eight hours a day, and while training is important; it means nothing without proper recovery. Every day, the athletes have dedicated time for rest, recovery and supplementation. Within their first week, Stephanie Wilson, Head of Nutrition at IMG Academy, conducts an individual nutrition and supplementation assessment and then constructs a unique plan for each athlete.
"Dymatize has allowed us to provide customized products that are specific to each athlete's goals and performance needs," Wilson explained. "We spent a great deal of time with the Dymatize staff determining the most effective combination of supplements to help maximize each trainee's athletic performance and recovery time. Supplementation with Dymatize Nutrition has had a significant impact on our training program by providing cutting edge supplements in a safe form with flavors that the athletes love."
Last winter, Dymatize Nutrition joined the growing roster of IMG Academy sponsors, providing its professional athlete trainees with cutting-edge, sports tailored supplements and to collaborate with the IMG Academy staff to create innovative product lines for elite athletes. Players' supplementation plans include branched chain amino acids (BCAAs); micronized creatine; beta alanine; and L-glutamine. Each supplement was strategically selected by IMG Academy and Dymatize to provide essential benefits, such as delaying fatigue so that the athletes can work not only harder, but longer. Dymatize supplements also increase muscle strength and boost protein synthesis to speed muscle recovery. IMG Academy has the knowledge and training resources to help these athletes reach their full potential, and Dymatize has the supplementation to get them there. Together they are setting the standard for professional athlete supplementation.
Photo by: IMG Academy
connect with us & get a guide
Contact Us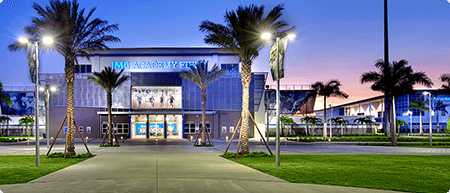 5650 Bollettieri Boulevard
Bradenton, FL 34210
Fill out the form below and we'll be in touch soon!
Request a brochure
We offer downloadable brochures about our boarding school, youth camps, adult programs, team training and pro/collegiate training in multiple languages.
Visit Us
Are you interested in touring the IMG Academy campus? Fill out the form below to submit a tour request and we will be in touch soon to confirm your request.