Eleven-year-old golf talent Latanna Stone joins IMG Academy to turn her playing dreams into a reality
At IMG Academy's golf training facility, the Wall of Champions is adorned with the images of student-athletes and alumni, showcasing their amateur and professional successes. With the 2013-14 school year fast approaching, one player joining IMG Academy – Latanna Stone – is ready to reserve her spot on that wall.
"I want to be the world's number one golfer; I want to be on the LPGA Tour - I want to do a lot of things," said Stone on what attracted her to IMG Academy. "It's really exciting to see all the professionals who have come through here and see where they're at now, like Paula Creamer, Michelle Wie, and everyone else on the Wall of Champions."
She gave pause before adding, "Now I want to be on that wall."
Not since the year 2000, when a then 10-year-old Michelle Wie became the youngest-ever player to qualify for the Women's U.S. Amateur Public Links Championship, has a female junior golfer garnered as much attention as Stone. Now 11-years-old, Stone emerged on the national golf scene in 2012 when she, like Wie, qualified for a USGA event at age 10, earning a spot in the US Women's Amateur. One year later, Stone is looking to take her game to the next level at a place that has helped so many aspiring golfers fulfill their potential.
"I like it here, and I think IMG Academy can really help me do more in my golf game. I really want to step up my game…go out and practice more…I like it because I'm around other kids," Stone remarked.
With more than 100 wins under her belt according to the Florida Golf Association's records, Stone is not at all concerned about outside expectations. She is simply focused on harnessing the full power of her formidable swing, and working on hitting out of bunkers. Her parents are also eager to provide her with the resources to reach her ambitious goals.
"I saw [Latanna] struggle for the first time [at the US Women's Open qualifier] in West Palm, and I knew that she needed more than just two hours practicing after school," explained Yuen Stone, Latanna's mother. "We see the raw talent she has, and we want her to go to the next level, and that's what she wants, so IMG Academy was it - it was the answer."
Stone and her mother both agree that another valuable resource at IMG Academy is the mental conditioning discipline provided through the Athletic and Personal Development program. At Stone's age, she is advanced well beyond her years physically, but she still has to tackle the mental aspects of the game.
This became evident to her mother in May at the US Women's Open qualifier at Bear Lake Country Club in West Palm Beach, Fla., where she had to overcome miserable weather conditions and was paired with a 28-year old LPGA Symetra Tour professional, and a 38 year-old golf instructor. For Stone, it was tough to play through the adversity, and pick herself back up for the next competition, especially after watching her friend and occasional training partner, 14-year old Nellie Korda (sister of IMG Academy alumna Jessica Korda), win the qualifier and punch her ticket to the US Women's Open.
"The next day she was at Disney's Magnolia Course, and I was having to cheer her on and bring her up more than usual because I could see her body was slouched and she was down, and she was hitting more bogeys," explained her mother Yuen. "I felt that if she had someone to coach her through that sort of thing, like with what the mental conditioning coaches at IMG Academy can do, it would make a huge difference in her game."
More than anything, the young Stone is most excited about returning to a golf school environment. Having been homeschooled since the age of seven, she is eager to compete alongside other student-athletes working every day to be their best on the field and in the classroom.
"It's cool because I see all these other kids and teenagers trying to do their best, and they're all out there every single day, so it pushes me to step my game up even further," remarked Stone. "I had a social life before coming here, but I'm definitely going to have much more of a social life here, so I'm trying to interact with everyone and get to know everybody."
The wise-beyond-her-years Stone added how much she appreciates everything that her parents, Michael and Yuen Stone, have done for her to help make her dreams come true. Stone is already training at IMG Academy this summer in anticipation of the new school year. This fall, she will join another rising star at IMG Academy – 10-year-old Matthew De Heus of San Francisco, Calif. De Heus was the U.S. Kids NorCal Player of the Year in 2012, and won the 2013 US Kids Florida State Championship in the Boys 10s division in June.
connect with us & get a guide
Contact Us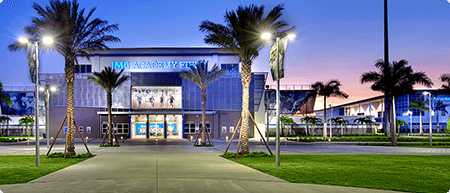 5650 Bollettieri Boulevard
Bradenton, FL 34210
Fill out the form below and we'll be in touch soon!
Request a brochure
We offer downloadable brochures about our boarding school, youth camps, adult programs, team training and pro/collegiate training in multiple languages.
Visit Us
Are you interested in touring the IMG Academy campus? Fill out the form below to submit a tour request and we will be in touch soon to confirm your request.