Florida mini-camp plays huge role for Riders

There is more to the Saskatchewan Roughriders' mini-camp than fun in the Florida sun.
The four-day mini-camp begins today with rookies and prospects on the turf at the IMG Academy. Veterans are to report on Friday, with their sessions scheduled for Saturday and Sunday. The mini-camp is important, considering all of the changes that have taken place with the Roughriders' staff and players since the end of the 2012 CFL season.
"We turned over half of our coaches during the offseason,'' said Riders general manager Brendan Taman. "This will give the vets and the coaches a chance to work together before training camp in June. It gives us three days of introduction to those people. It shows the veterans that we are committed to doing this. In the NFL you always hear about (organized team activities). This is our version of OTAs.''
There will be a lot of meeting and greeting among the coaches and the players.
Gone from the 2012 coaching staff are special-teams co-ordinator Craig Dickenson, offensive line coach Kris Sweet, linebackers coach Alex Smith and defensive line coach Mike Walker.
Added during the offseason were offensive coordinator George Cortez, offensive line coach Doug Malone, defensive line coach Todd Howard and defensive backs coach Richard Kent.
Returning are head coach Corey Chamblin, quarterbacks coach Khari Jones, receivers coach Jason Tucker, defensive co-ordinator Richie Hall and defensive backs coach Barron Miles. Bob Dyce moves from offensive co-ordinator to special-teams co-ordinator.
This is the second year that the Riders have con-ducted a voluntary minicamp for veterans. A minicamp was held over two days in mid-April in Regina and Moose Jaw.
A mini-camp was conducted in Bradenton in 2012 for prospects and free agents. Running back Kory Sheets was among the prospects at last year's minicamp. Sheets, who earned an invitation to the main camp despite a lacklustre mini-camp, went on to finish second in the league with 1,277 rushing yards. Sheets also finished with 11 rushing touchdowns and two receiving touchdowns.
The performance of Sheets is among the reasons why Taman doesn't get too high or too low based on the performances of the rookies during the mini-camp.
"When I was down there, (Sheets) didn't catch the ball great and he really didn't wow me,'' Taman said. "You have to be a little careful at the mini-camp. When it comes to defensive linemen, what do you really get from watching them go against an offensive lineman without pads? I'm a little bit tainted from that point of view. I think it's important that we get together as a group and start the process rolling.''
The Riders' roster has undergone changes in the off-season. The Riders lost three players to free agency. Defensive end Odell Willis and offensive lineman Alex Krausnick-Groh signed with the Edmonton Eskimos, and linebacker/defensive end Shomari Williams joined the Hamilton Tiger-Cats. Safety James Patrick was released and defensive halfback Chris McKenzie wasn't re-signed after be-coming a free agent.
Taman reworked the roster by acquiring slotback Geroy Simon from the B.C. Lions for receiver Justin Harper and a third-round pick in the 2014 CFL draft. Taman then signed free agents in defensive backs Dwight Anderson, Weldon Brown and Carlos Thomas, linebackers Tristan Black and Rey Williams and defensive end Ricky Foley. Taman also re-signed 11 of the team's 15 potential free agents, including linebacker Tyron Brackenridge - the Roughriders' defensive player of the year in 2012.
The mini-camp is an opportunity for those players to get together before the season begins, even though veterans are limited to 4½ hours per day under the current collective bargaining agreement.
"We would like to have had more time with (the veterans), but those are the rules,'' Taman said. "They will have Saturday afternoon off, which will allow them time to do whatever they want as a team. That's good in terms of team bonding, so there are some plusses there.''
The mini-camp is an example of the gains the Riders have made by being among the most financially sound franchises in the league.
"We think the money is well spent because we're going to get our veterans in a great environment for three days,'' Taman said. "Without funds in your pocket, you can't do this. Rather than bring all of our veterans to Saskatchewan, we decided to do this.''
connect with us & get a guide
Contact Us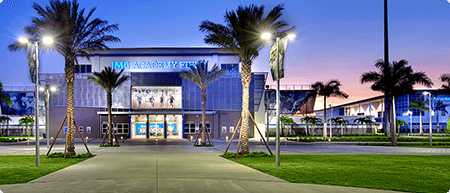 5650 Bollettieri Boulevard
Bradenton, FL 34210
Fill out the form below and we'll be in touch soon!
Request a brochure
We offer downloadable brochures about our boarding school, youth camps, adult programs, team training and pro/collegiate training in multiple languages.
Visit Us
Are you interested in touring the IMG Academy campus? Fill out the form below to submit a tour request and we will be in touch soon to confirm your request.