Force FC Holds On For Super-20 Title; Defeats Pacesetter SC to claim championship at IMG Academy
BRADENTON, Fla. – Force FC Academy of Michigan defeated Pacesetter SC of Ohio 2-0 Sunday at IMG Academy to capture the title at the 2013 Super-20 League Championship presented by Nike.
Championship MVP Bubacarr Jobe provided the only offense Force FC needed when he scored in the 15th minute and Nazeem Bartman added an insurance goal on the final kick of the game.
With only 14 players on its roster for the tournament, Force FC was fighting a battle against fatigue as well as its opponents. After playing five games in four days, including two overtime periods in a semifinal win against the Toronto Lynx on Saturday, Force FC Head Coach Chris Edwards knew the early part of the match was key.
"At the start we knew we didn't have enough fitness, so we knew we had to have a good start." Edwards said. "We were hoping to get a lead, because we haven't done that the whole tournament. Today to actually get one and hold one was a tough one."
Force FC target forward Joe Tinnion started the scoring play when he picked up an errant pass near the right sideline and cut toward the box. He fed Jobe near the top of the box, and after beating a defender Jobe fired a low shot that eluded outstretched Pacesetters keeper Mike Soderlund, hit the post and bounced in.
Following Jobe's breakthrough Pacesetter SC became more involved and began to gain more possession, and it nearly found the equalizer in the 23rd minute when a shot from the top of the box was deflected on goal, forcing Force FC keeper Elliot Tarney into a diving save.
Tarney, one of several Oakland University standouts on the Force roster and the goal-scoring hero that allowed Force to advance to the semis, shared the tournament's top goalkeeper honors with Triston Henry of the Toronto Lynx.
As the second half got underway Force FC legs tired and the squad dropped back into a more defensive posture led by center backs Philip Piper of Yale and Quincy Thomas of Memphis. Pacesetter FC began to exert regular pressure, led by Andre Landell and Kevin Tikhomiroff.
Landell had a strong chance in the 67th minute but fired just wide from the top of the box, and Tikhomiroff had a chance of his own in stoppage time that he also fired wide. In the end, despite tired legs and minds from their third game in two days in the oppressive Florida heat and humidity, Force FC's players held on to claim the title.
"At the end there we were dying on our feet and we were defending almost in our six-yard box, which you don't want to do, but they've been amazing," Edwards said. "We only have 14 guys and I can't say enough about them. It was fun to watch them.
"Unbelievable." With four goals in three games, forward Zachary Zurita of Beachside FC claimed the tournament's Golden Boot.
Credit to: United Soccer Leagues
connect with us & get a guide
Contact Us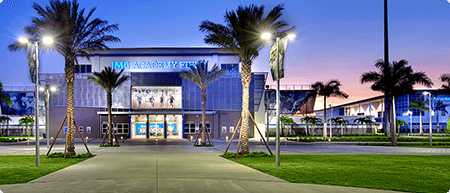 5650 Bollettieri BLVD.
Bradenton, FL 34210
Fill out the form below and we'll be in touch soon!
Request a brochure
We offer downloadable brochures about our boarding school, youth camps, adult programs, team training and pro/collegiate training in multiple languages.
Visit Us
Are you interested in touring the IMG Academy campus? Fill out the form below to submit a tour request and we will be in touch soon to confirm your request.