Former Miami Hurricanes put books aside to prepare for NBA

Final exams end Wednesday at the University of Miami, but the studying and learning go on in Bradenton for former Hurricanes basketball players Kenny Kadji, Reggie Johnson and Julian Gamble.
They are participating in IMG Academy's NBA Draft Training Program, and Shane Larkin is scheduled to join them Thursday night.
Draft prospects in the program are preparing for the NBA Combine, being held May 15-19 in Chicago. They are trying to elevate their stock by spending 12 hours per day working on basketball skills, speed and movement, strength and conditioning, mental exercises, vision training, nutrition and communications. Among the activities they go through are a mock combine, a mock draft, mock interviews with general managers and mock news conferences.
While they await their Atlantic Coast Conference championship rings in the mail, the former Canes are chasing their NBA dreams together. Larkin, a sophomore who decided to skip his final two years of college eligibility, is projected to be picked anywhere from late in first round to the middle of the second round. Kadji is expected to be chosen in the second round.
Among the other players in the program are Brandon Paul of Illinois, Laurence Bowers of Missouri and Romero Osby of Oklahoma.
"It's definitely not college anymore," said Johnson, who is working his way back from arthroscopic knee surgery that kept him out of the NCAA Tournament's Sweet 16. "The whole focus is on life as a pro, everything from getting strong enough to handle bigger guys to how to walk into a room to meet with a GM. They told us to shake everyone's hand, to make eye contact, and not to rock back and forth in our chair because that makes you look nervous. I'm glad Kenny and Julian are here because we've gone through so much together, we push each other, and we have a lot of fun together."
Johnson said he meets with the nutritionist three times per week, is drinking only water and G2 (diet Gatorade) and already has lost 12 pounds since arriving nearly a month ago. He was itching to play after his surgery, and now he has added motivation — infant daughter, Camryn, who was born May 1 in North Carolina to Johnson's high school sweetheart. He said they plan to marry "pretty soon," but first he hopes to sign with a team and get financially stable.
"I have a beautiful little princess depending on me now," he said. "I was there for the childbirth and it was the most amazing thing. God works in mysterious ways, and he brought us this little girl. When I look into her eyes, it makes me want to cry. I want to provide everything for her, and that drives me to work harder."
He said the most challenging parts for him have been the outdoor agility training and the vision training. Athletes sit in a dark room, see lights coming quickly from different angles and have to react. The goal is to improve hand-eye coordination so players can handle quick passes and have better peripheral vision to find open teammates.
Gamble said the group of about a dozen athletes has bonded like a team, and he will be rooting for all of them on draft day June 27. Paul has been ribbing Kadji about a controversial out-of-bounds play during the NCAA Tournament game between the Canes and the Illini.
"We're grinding hard together, day in and day out, and it's good to be around guys that can relate," Gamble said. "They don't know anything about what to expect in the draft process, just like I don't know anything. We're learning together from people who coached, played and scouted in the league and the experience is invaluable."
The basketball skills training is led by former NBA coach Kenny Natt, who worked with the Utah Jazz, Cleveland Cavaliers and Sacramento Kings. He has coached Karl Malone, John Stockton and LeBron James. Speed expert Loren Seagrave, who has coached Olympic track and field stars, works with the athletes on lateral movement, explosion and stamina.
Kadji is familiar with the staff and the campus, as he attended high school there. He showed Johnson and Gamble around when they arrived and is thrilled to be among friends.
"It's great to have my UM brothers' support," Kadji said. "This is a big step for everybody, and there's going to be a little bit of butterflies, I'm sure. This will help us be ready."
He said he has been focusing on getting stronger, and improved from six repetitions bench pressing 185 pounds to 11 reps. He is enjoying the leadership training, and thinks it will come in handy.
"The teams want to see how professional you are, especially if you're not a top 10 pick, if you're a guy on the fence," he said.
"Here, they give us advice on what to say and what not to say to GMs, how to handle the trap questions they throw at you, how to dress, things like that. So, when we get there, we'll look like pros, not like nervous college kids."
connect with us & get a guide
Contact Us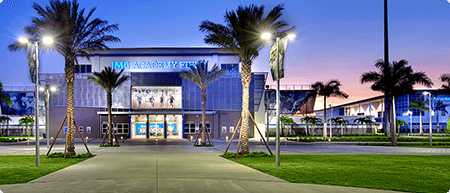 5650 Bollettieri Boulevard
Bradenton, FL 34210
Fill out the form below and we'll be in touch soon!
Request a brochure
We offer downloadable brochures about our boarding school, youth camps, adult programs, team training and pro/collegiate training in multiple languages.
Visit Us
Are you interested in touring the IMG Academy campus? Fill out the form below to submit a tour request and we will be in touch soon to confirm your request.