Francisco Martinez of Miami, Fla. wins IMG Academy Lacrosse Gatorade G-Award Week of June 17

Every week at least one athlete from each sport will earn the Gatorade G-Award/IMG Academy Athlete of the Week for displaying Heart, Hustle and Soul, and exhibiting a true desire to reach their true athletic potential.
The IMG Academy Lacrosse winner of the Gatorade G-Award/IMG Academy Athletes of the Week Award is Francisco Martinez from Miami, Fla.
1. How long have you been playing lacrosse for? 
A little more than a year and a half.
2. What is your favorite thing about IMG Academy and why?
The amount that they push you. They are not necessarily soft, so you really get the full circle when it comes to this camp for the right reasons. In all aspects, athleticism and school, they push you and acknowledge hard work.
3. Do you have any pre-game rituals that help you prepare for a big game?
It is kind of silly, but I put all my laces under my strap expect one. Also, I take one Gatorade Chew for every aspect of the game I want to get good at. For example, ground ball, face-off win and good defense.
4. What professional athlete inspires you the most?
Ray Lewis. He is always real big on hard work and pushing yourself. I got inspired from him just by watching a 5-minute video of him.
5. What is your favorite thing to do after you win a game?
After I win a game, I like to go home and think of the positives I did during the game. I ask myself what is there I can get better at.
6. What motivates you to push through a tough practice?
The harder you practice, the easier the game is. The more hard work I put in during practice time, the less difficult is going to be during the game.
Photo by: Zachary Dash
connect with us & get a guide
Contact Us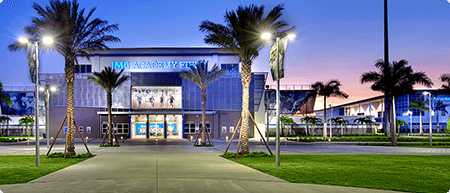 5650 Bollettieri Boulevard
Bradenton, FL 34210
Fill out the form below and we'll be in touch soon!
Request a brochure
We offer downloadable brochures about our boarding school, youth camps, adult programs, team training and pro/collegiate training in multiple languages.
Visit Us
Are you interested in touring the IMG Academy campus? Fill out the form below to submit a tour request and we will be in touch soon to confirm your request.