French Open 2013: Maria Sharapova and Jelena Jankovic ready to duel

PARIS -- Despite what Yuri Sharapov might say, tennis champions are made, not born.
"Well," said Maria Sharapova on Monday, "he's my father. He thinks I can beat Rafael Nadal on clay."
Sharapova's journey began in earnest at the age of 6, when she attended a clinic in Moscow, run by 18-time Grand Slam singles champion Martina Navratilova. Maria was a tiny slip of a thing with a huge mop of blonde hair and an adult racket that looked ridiculous in her small hands -- until she started hitting balls. Navratilova suggested to Yuri that he take his daughter to America, more specifically, the Nick Bollettieri Tennis Academy in Bradenton, Fla.
She was 9 when they arrived at Bollettieri's, straight from Siberia.
"There are so many turning points, obviously," Sharapova explained. "Moving to the United States when you're 7 years old and not [having] a lot of money is one of them -- because there's a huge chance that you're going to be on the plane back."
Bollettieri's was a fabulous tennis factory. Andre Agassi, Jim Courier, Boris Becker, Monica Seles and even the Williams sisters have all been part of the volatile vortex there. Soon, Sharapova and another girl, Jelena Jankovic from Belgrade, Serbia, found themselves battling to separate themselves from the talented group. Jankovic, two years older, and Sharapova became fiercely competitive. Their games were wildly different. Sharapova had booming groundstrokes, while Jankovic was a relentless retriever.
"To tell you the truth," said Bollettieri from his IMG Academy on Tuesday, "they weren't all that friendly. I mean, in those days, Maria scared the s--- out of all the girls, even when she was that young."
The fiery chemistry between them, that undeniable dynamic tension, is certainly part of the reason they would both eventually ascend to the WTA's No. 1 ranking.
On Wednesday, they meet for the ninth time as professionals in a quarterfinal match at Roland Garros. In the fourth round, Sharapova beat 20-year-old American Sloane Stephens and Janokovic handled American Jamie Hampton. They lost a total of only nine games between them.
Surprisingly, their head-to-head results indicate they have never met on clay. But surely, they played on the dirt back at Bollettieri's?
"I think so," Sharapova said. "Maybe not. I don't know."
Jankovic wasn't exactly sure, either, when the subject arose in her Monday news conference.
"Yeah," she said, "it was like when we were 12 years old maybe, if that counts. Does that count?"
Sure, if she won.
"Yeah, like 26 years ago, if that counts," Jankovic said, unconvinced. "OK. Yeah, it's going to be our first encounter on clay. Every match is a new match and it's a challenge."
Sharapova, the No. 2 seed here, will be more than a handful for the 28-year-old Serb. With all the attention focused on the No. 1-seeded Serena Williams, Sharapova has been quietly ripping through the field and has yet to lose a set. And for the record, Sharapova is 16-3 in Grand Slam quarterfinals -- with all three losses coming here in Paris. 
In 2004, when Jankovic won only two Grand Slam singles matches, Sharapova exploded like a comet across the sky. She made the quarterfinals here and then, boom, throttled Serena in the final. Sharapova was less than three months past her 17th birthday. A year later, she would become No. 1. She won the US Open in 2006 and the Australian Open in 2008. Her title at last year's French Open was unlooked-for, but it gave her the career Grand Slam.
Jankovic was a relatively late bloomer. While lacking Sharapova's power -- on groundstrokes, but particularly the serve -- Jankovic has compensated with speed and defense and her signature shot, a superb backhand down the line.
"Which is the shot that pays my bills," she said, laughing.
Jankovic has had her best results on the hard courts at the US Open, where she reached the semifinals, quarterfinals and final from 2006 to '08, and here at Roland Garros, where she's made the semifinals three times. For 18 weeks in 2008, she was the WTA's top-ranked player.
Lately, though, she has struggled. Jankovic was 32-30 in matches last year, losing 14 times in the first round. She fell out of the year-end top 20 for the first time in seven years. This year, playing without a coach, she's improved.
"She's changed coaches more than I've changed wives," cracked Bollettieri, who at 81 has been married eight times. "I'm happy to see Jelena playing well again."
In February, Jankovic won her 13th WTA title in Bogota, then reached the semifinals at Indian Wells (losing to Sharapova) and the Charleston finals, falling to Williams. She is No. 11 among WTA players in the 2013 Race to Istanbul.
"I go now for my shots and I believe I can make it," she said. "It's a lot of belief. That's, I think, what was missing."
Jankovic will need all of that belief Wednesday, for Sharapova has won seven of their eight matches, four of them in finals. The only breakthrough? The 2007 Birmingham final on grass. This one, being their first official match on clay, gives her a degree of hope.
"I think the clay really suits her game," Sharapova said. "She's a great retriever, gets a lot of balls back."
Jankovic knows Sharapova will be the overwhelming favorite.
"Maria won this tournament last year," Jankovic said. "She has played very well last year on clay and as well this year. She's a tough opponent."
Jimmy Connors has made headlines with his new book, and Sharapova says she, too, would like to write a memoir. It will be based on the journal she has kept since the early days at Bollettieri's.
"Some of it is mind-blowing," she said. "Everyone says that I'm so focused on the court and people ask me why and how and [if] you're born with it or not. I think it's something you learn.
"Little by little, you work toward your goals. There are a lot of different directions that can go wrong at such a young development stage."
In the case of Sharapova and Jankovic, it couldn't have gone better. Fifteen, 16 years ago, they battled and pushed each other. For a time, they both reached the very top of their profession. Wednesday, they will renew their spirited rivalry.
"Jelena is the better mover, especially laterally," Bollettieri observed. "Maria's groundstrokes have way more firepower. I think it's going to come down to who serves better. Both of their serves can go off in the nervous times.
"I'm looking forward to watching it."
Photo by: Getty Images
Credit to: ESPN.com
connect with us & get a guide
Contact Us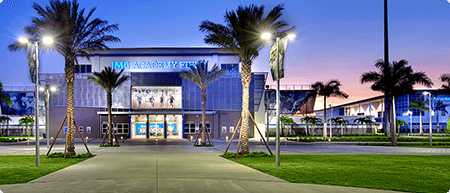 5650 Bollettieri Boulevard
Bradenton, FL 34210
Fill out the form below and we'll be in touch soon!
Request a brochure
We offer downloadable brochures about our boarding school, youth camps, adult programs, team training and pro/collegiate training in multiple languages.
Visit Us
Are you interested in touring the IMG Academy campus? Fill out the form below to submit a tour request and we will be in touch soon to confirm your request.