Gatorade provides the fuel IMG Academy NBA Combine/Draft trainees need to succeed at the next level

The transition from college basketball to the NBA often proves to be one of the most challenging time frames in a professional basketball player's career. The jump from high school to college was relatively easy for many of the former collegiate standouts training at IMG Academy for the NBA Draft. However, with the annual NBA Draft coming up on June 27, the professional ranks present a host of new challenges as the athleticism, work ethic and pace of play all increase exponentially at the next level. IMG Academy provides these athletes with a 360-degree training approach that not only prepares the NBA hopefuls for the NBA Combine and individual team workouts leading up to the draft, but to excel from day one as a professional basketball player.
Every athlete in the NBA Combine/Draft Training program goes through an extensive training regimen that incorporates eight key disciplines such as Nutrition, Vision Training, Mental Conditioning, Communications and more. Players go through three to five physical training sessions a day, including speed and movement; strength training; basketball practices; and supplemental work. To get the most out of these workouts, the trainees have to learn to adequately fuel their bodies throughout the day. Sports nutrition is one of the most important disciplines that the players learn during their time at IMG Academy, providing them the knowledge to maximize their potential during workouts, practice, the NBA Combine and eventually the NBA.
The players have multiple nutrition sessions during the week with Head of Nutrition, Stephanie Wilson, who explains, "We teach every player how to properly fuel their bodies before, during and after physical activity so that they can get the most of their workouts and excel at the NBA Combine. Most of the players have limited knowledge about sports nutrition before they arrive, but they quickly buy into the fact that they need carbohydrates before their workout to get ready, carbohydrates and electrolytes during their workouts to stay hydrated and keep performing at their highest level. Then protein to recover afterwards is critical. Thankfully, we have a tremendous partner in Gatorade who has decades of experience fueling athletes and provides every player with Prime, Gatorade Thirst Quencher and Recover throughout their training".
Wilson added, "As the NBA Pre-Draft trainees' sports nutrition habits develop and improve, so does their performance in the weight room and on the basketball court. The players notice it, and that's when we see the buy-in. Proper nutrition starts to become part of their athletic ritual, and that's when we know that the athlete is going to be successful at the next level because they want to find every edge possible and outwork their opponents."
Proper sports nutrition is vital to maximizing athletic potential; not only during games, but every day before, during and after each workout. The longer and the more consistent a player is with his nutrition, the better his gains will be on court. The NBA Pre-Draft class at IMG Academy constantly primes before, hydrates during and recovers after each workout and practice in order to maximize their gains at the NBA Combine and team workouts that will lead up to the most important day of their lives, the NBA Draft.
Photo by: IMG Academy
connect with us & get a guide
Contact Us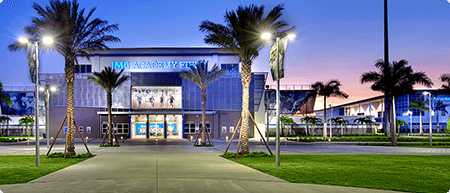 5650 Bollettieri Boulevard
Bradenton, FL 34210
Fill out the form below and we'll be in touch soon!
Request a brochure
We offer downloadable brochures about our boarding school, youth camps, adult programs, team training and pro/collegiate training in multiple languages.
Visit Us
Are you interested in touring the IMG Academy campus? Fill out the form below to submit a tour request and we will be in touch soon to confirm your request.