Georgia Deacon of Melborne, Australia wins IMG Academy Tennis Gatorade G-Award Week of June 24

Every week at least one athlete from each sport will earn the Gatorade G-Award/IMG Academy Athlete of the Week for displaying Heart, Hustle and Soul, and exhibiting a true desire to reach their true athletic potential.
The IMG Academy Tennis winner of the Gatorade G-Award/IMG Academy Athletes of the Week Award is Georgia Deacon from Melbourne, Australia.
How long have you been playing tennis for? 
I am fourteen and began playing when I was four years old.
Who is your coach?
Coach Cougar Arande.
What is your favorite thing about IMG Academy and why?
I like how there is a lot of different people from around the world that I get to meet and become friends with.
Do you have any pre-game rituals that help you prepare for a big game?
I stay calm and I listen to music, mainly ministry of sound type music. And then I just jump around.
What professional athlete inspires you the most?
Novak Djokovic.
What is your favorite thing to do after you win a game?
It depends on the night.
What motivates you to push through a tough practice?
I just think that even if it's hot, if I do my best, then I can do my best when I get back home.
Photo by: Zachary Dash
connect with us & get a guide
Contact Us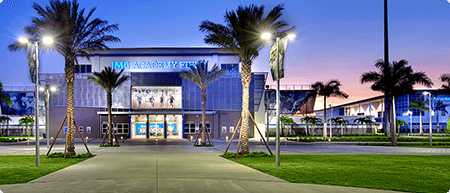 5650 Bollettieri Boulevard
Bradenton, FL 34210
Fill out the form below and we'll be in touch soon!
Request a brochure
We offer downloadable brochures about our boarding school, youth camps, adult programs, team training and pro/collegiate training in multiple languages.
Visit Us
Are you interested in touring the IMG Academy campus? Fill out the form below to submit a tour request and we will be in touch soon to confirm your request.