Getting to know... IMG Academy soccer coach Aidan Davison

In January, the IMG Academy soccer program added Aidan Davison to its staff as the head coach of the U16 boys team. With 25 years of professional experience, Davison is a valuable addition to the staff. He made his professional debut in 1988 for non-league side, Billingham Synthonia and then progressed through the different league levels in England. He played for a number of teams until reaching the pinnacle of his career, playing in the English Premier League with the Bolton Wanderers and Bradford City. Due to his success, he also represented Northern Ireland during World Cup Qualifying. After retiring in 2009, he joined Premier League team Hull City as a manager, and in 2011 he became the head coach of PDL club, FC Jax Destroyers. We sat down with Davison to discuss some of his most memorable moments, why he wanted to come to IMG Academy, his opinion on how US Soccer can grow to the next level and more.
Aidan Davison on…
…his time at IMG Academy.
It's exactly what I expected – Quality environment, with top quality coaches. Every day is full and packed, and that's how I like it. I like it intense, and I like working with quality players, and IMG Academy certainly has that.
…what he can bring to the program.
I can bring my experience for one thing. One, I've been in their position at 16. I can give them a little insight into what I went through at their age. Obviously, I give them the wealth of experience that I've accumulated over the years which is 35 years playing and 25 years of that as a professional.
…the biggest difference between training in England and what student-athletes experience here.
Facilities. Now, I know a lot has changed in England. Obviously at the academy level, and the money, since the formation of the Premier league has helped the English game. Their standards have improved and their facilities. But what you have at IMG Academy is a world class facility, so the kids have a head start because they have everything laid out in front of them. They've got strength and conditioning, the [vision training], the psychological and mental side of the game which is worked on. So every facet of the game is worked on here, so all the kids really need to do is apply them properly and they can succeed.
…playing in the Premier League.
It's quick, physical and demanding. So as a player you want to get to the highest possible level you can, and it was nice that I got there. I made my premier league debut at 25, so I got there quite early. But it wasn't all roses – it was quite turbulent. I struggled with consistency, and those are some of the biggest challenges you face when you've got adversity. When you're not in the team, you find out about yourself. The Premier league was a great experience, and I learned a lot from it, and it was certainly nice to play in it for all those years.
…coaching in the Premier League.
The biggest issue you're going to get when coaching at that level, and what I mean by that level I mean, anyone that you're coaching, doesn't matter what sport it is, and the athlete is financially independent, then you have a different level of coaching. You can't always use command style. You don't have as much leverage as you would like because players have so much power now. We see it so much in the global game, especially in soccer. Players can get managers and head coaches fired, so you have to be careful and strategic about how you go about your coaching. And it's certainly challenging, because the better players tend to ask the questions and you have to have the answers.
…best goal scored against him.
I remember playing for Northern Ireland against Germany in what might have been 1998, in a World Cup qualifier. We were beating Germany, one-nil. And it's about the 76th minute, and we're thinking, 'this is great – ok, we're just going to see the game out.' And there was a gentleman sitting on the bench called Oliver Bierhoff, and at the time he was playing for AC Milan and he was actually World Footballer of the Year. So he came on and scored three goals in about 14 minutes. One with left foot, one with his right foot, and one… I don't know. I had my eyes closed on the last one. It was very disappointing to say the least. I've been very fortunate to play against the Henry's of the world, the Scholes', and the Lampard's, and many other great players, and he's right up there, because he was World Footballer of the Year, and he was special. So I remember that really well.
…the feeling of playing for your country.
Oh it's magical! Obviously, living in the US and working over here, I see a lot more patriotism. The national anthem in the US is played a lot more than it is in the UK, and I think it's nice because there's a united feeling. So in the UK, it's lovely when you get your respective anthem, which obviously, the Scotland, and Ireland, and Wales, and so on. It's a nice feeling and gets you motivated for the job at hand.
…his first head coaching gig with FC Jax Destroyers.
It was excellent, because I've always wanted to manage. I've had opportunities to go back to England to coach goalkeeping level and everything else, but I wanted to take myself out of my comfort zone. I wanted to become a manager myself. So when I had the opportunity to go to the PDL level to manage a team I jumped at it. And obviously, you're working with some of the best talent at the college level, to get them to the professional level. The nice thing was we got about five to the professional level, which is really good. Good experience, but again, it's just difficult to make it work financially from a PDL perspective because of the ownership thing. Northeast Florida definitely needs PDL and a W league for girls.
…on why he wanted to come to IMG Academy.
I came down here as a guest coach and I've visited here. The facilities, quality of coaching staff, environment, it's a controlled environment. So therefore, there is the professional model I'm used to. It's everything I've worked in during the past 25 years. So it just makes sense to me to come into an environment that's controlled, and what I mean by that, from the outside world. That's why you have top athletes come here because you work in privacy on quality facilities. It's a no brainer for me, and it's only going to grow.
…his goals for this year.
My goals are firmly with the 16s that I coach. To develop and improve every player, and to makes sure I'm giving them everything I can to give them to get them to the next level, and that's basically what I get out of bed for. That's my job satisfaction. To improve them individually, and as a team.
Photo by: English Premier League
connect with us & get a guide
Contact Us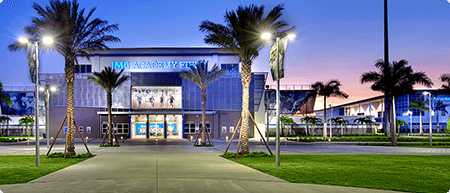 5650 Bollettieri Boulevard
Bradenton, FL 34210
Fill out the form below and we'll be in touch soon!
Request a brochure
We offer downloadable brochures about our boarding school, youth camps, adult programs, team training and pro/collegiate training in multiple languages.
Visit Us
Are you interested in touring the IMG Academy campus? Fill out the form below to submit a tour request and we will be in touch soon to confirm your request.