Getting to know... Pittsburgh Pirates Neil Walker and Pedro Alvarez

Both 1st-round picks, Neil Walker and Pedro Alvarez embody the "new" Pittsburgh Pirates. Infused with young talent, led by MVP candidate Andrew McCutchen, the Pirates are hoping the nucleus can return them to glory. With all three players doing winter training at IMG Academy, we caught up with Walker and Alvarez for a few questions.
What is your primary training focus during the winter?
Neil Walker: For me, the climate isn't really conducive to working out in the winter. So coming down here, being so close to Spring Training and doing everything all at one place is great. It's an incredible facility.
Pedro Alvarez: Before, some guys would show up to Spring Training to get into shape. Nowadays, you have to come into Spring Training in the best shape you can or you'll be behind everyone else.
NW: The vision training is something that I really wanted to do. That's what Andrew told us about last season. That's the biggest thing for me. Not many places offer that type of training. 
PA: You don't really know what's going on or why your eyes feel tired, but then it dawns on you that it was the vision training. For me, I'm also working on my agility and speed and core work. The first week I was here, I couldn't even laugh because my core hurt so bad. But everything we do here is functional.
Pedro, did you ever consider another route other than baseball after attending one of the top academic prep schools in the nation in Horace Mann?
PA: To be 100% honest, this has been my dream since I was a kid. Of course, you think about what if baseball doesn't work? Growing up, I thought about being an engineer or architect, then studies economics in college. But baseball was always my passion. It's what I eat, sleep and breathe.
Neil, being from Pittsburgh, do you feel more pressure?
NW: I'm blessed to play for this organization. I feel like it's a Cinderella story, and I'm entrenched here. The pressure is always there, but you learn to deal with it as time goes on. There's a lot that goes with being a Pittsburgh athlete and being from there. The whole "aura" of Pittsburgh sports is almost like a cult-ish type atmosphere for fans. For a while, it was a burden on me because everyone calling for tickets. Now, I've started putting that on other people and focus on what I need to do. 
What does your father tell you about the time he nearly with Roberto Clemente on the flight that took Clemente's life?
NW: That day changed his life forever. It put his life in perspective. He was a single man at the time and playing in Puerto Rico, trying to get his career going. Roberto Clemente was a player/coach. My dad wanted to get on the plane with him, and Roberto told him to 
stay. If my dad goes, I'm not here. He tells me about how much of an aura Roberto had about him. People just gravitated to him, and he was as accepting as they come. Nobody had a single bad thing to say about him. 
Talk about the infamous Pirates streak of losing seasons.
PA: Everyone has a role. If everyone does their part, we'll be fine. It's not on one person to win a game. To say that's it on us, if anything, is a dishonor to our teammates. We are part of a bigger movement to get us where we need to be. The organization has done a great job of not putting the pressure on us.
NW: That is the most-asked question in the locker room. We've both only been in the big leagues since 2009. I get it. I understand why they want to harp on it. The truth is, if that's our goal, it's skewed. Last year, we should have blown right past that and been at least a Wildcard team. But we're a young team, and each year the nucleus gets better and stronger. 
Who is more recognized in Pittsburgh?
PA: C'mon. Are you kidding? This guy. If I'm recognized, it's only because I stick out like a sore thumb. He can't step outside without seeing someone he went to school with, played with or something.
NW: He loves going out with me because he can get away from all the attention. 
Pedro, what sports other than baseball did Neil play in high school?
PA: Football and what was it? Swimming? Haha... No. Basketball, right?
NW: I would've had the opportunity to play football in college, but I was a 'tweener. I wasn't really fast enough to play wide receiver or defensive back. I was just an athlete.
Neil, what is Pedro's nickname?
NW: That's easy. El Toro.
When should McCutchen cut his hair?
PA: You don't mess with it. I mean, I wouldn't mess with it. 
NW: If I'm hitting .350, maybe not dreads, but I'll let it grow. Baseball players are so quirky about that kind of thing.
PA: I'm trying to get rid of some of my superstitions. It starts out as a routine, then it turns into a ritual. It's kind of signs of OCD. I go into the box a certain way. I tap the plate a certain way. I have the same pre-pitch setup in the field – I tap my feet six times. I like my fingers after every pitch. I adjust my hat after every pitch. I'm a big fan of even numbers, so if I do something I have to do it twice. It's like a coffee addict. I'm trying to wean off it. It's exhausting. You want to talk about OCD. This guy (Neil) is it.
NW: I'm the guy with the locker that has to have everything in place. Guys will come over and move a shoe three inches and I'll be like What the hell!? I'm pretty OCD. Not as much on-field, as with preparation. Same routine, same cage routine, getting prepared, stretching, everything. 
How close are you guys off the field?
NW: We're very close. Our wives are very close friends. We're crashing at their place right now as we get work done on our home here. We just hang out. We play cards. Cook out. We both have dogs. It's just removing ourselves from the game and relaxing.
Photo by: Getty Images
connect with us & get a guide
Contact Us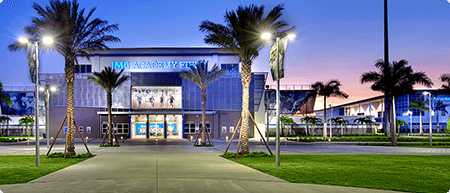 5650 Bollettieri BLVD.
Bradenton, FL 34210
Fill out the form below and we'll be in touch soon!
Request a brochure
We offer downloadable brochures about our boarding school, youth camps, adult programs, team training and pro/collegiate training in multiple languages.
Visit Us
Are you interested in touring the IMG Academy campus? Fill out the form below to submit a tour request and we will be in touch soon to confirm your request.