Getting to Know...Former Duquesne Star and European Basketball Standout Aaron Jackson
Less than a month ago, Duquesne star and European basketball standout Aaron Jackson signed the biggest contract of his life: a 3-year guaranteed contract with CSKA Moscow. As he has done four times previously, Jackson is currently spending his offseason training at IMG Academy to make sure he is ready to compete for one of Europe's best teams. Following a recent practice with IMG Academy Head Skills Trainer, Dan Barto, Jackson talked about signing his first professional contract, life overseas, and his ridiculous record in the playoffs (Most notably his 46-point NIT performance and last year's playoff run with Bilbao).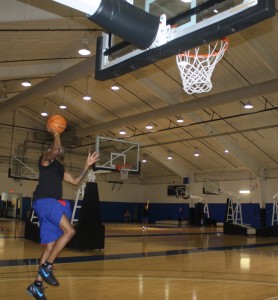 Aaron Jackson on...
...signing his first professional contract: You get out of college and you're not sure where you're going to play or if the NBA is still in the vision, then, out of nowhere, you get a contract from a team in Turkey. It's a huge relief. It was so exciting and humbling. It made me want to get back to work and become a true professional
...signing a new 3-year deal with one of Europe's top teams: It was something that I worked really hard for in the offseason and at IMG Academy but I still wasnt expecting it. It was great to see all of the hard work and grinding everyday finally pay off, I was more overjoyed than anything.
...playing overseas: I love playing overseas. My last two years in Spain were two of the best years of my life. There were definitely some sacrifices and it took me about six months to really catch on to the language, but once I did, I really enjoyed the experience. Now Spain and Russia are night-and-day, but I've been to Russia twice and really enjoyed it so I'd have to say I'm looking forward it.
...playing for one of Europe's top coaches (and former Lakers assistant) Ettore Messina: We've talked a lot already via email and text and I have a lot of respect for him. Before he went to the Lakers, he coached for Real Madrid in Spain where I played him in the playoffs. He's one of the best coaches in Europe and I'm excited to learn from him both in the NBA game and the European game.
...joining the team that knocked him out of the playoffs last year: It was a tough loss in the series last year. We went down 3-1 but it didnt even seem like they blinked an eye. They are true professionals all around and its exciting to be a part of that now. It's great to be a part of such a prestigious team.
...his playoff mentality: Not only in college, but in the last few playoff runs in Spain, I really felt like each of those seasons could be my last so I really wanted to give it my all. You never know what can happen over the summer, so I always want to make the coaches and fans remember me and all of the work I put in each season. Playoffs are exciting and they give me the chance to showcase all of the hard work.
...his future aspirations: The NBA has always been a dream of mine. This year, I actually had the opportunity to play on a few NBA summer league teams but when the #1 team in Europe offers you a 3-year guaranteed contract, it made for a tough decision. I was definitely a little torn but I think I made the best decision.
...spending the offseasons at IMG Academy: This is my 4th year here at IMG Academy and its just a great environment. The trainers are all on the same page and the facilities are amazing. Everything you need is close including high-tech treatment and great coaches including Dan Barto. He's my guy. We've been friends for about 5 years now and he has been a great mentor for me in my college and professional career. I wouldn't have come this far without him in my corner.
...the best place to visit in Europe: I've been to so many great cities but I'd have to say Istanbul, Turkey. It just like New York, it never sleeps. The people are amazing, the food is amazing and the nightlife is fun, too. Just an amazing city.
...former CSKA Russia MVP, Alexey Shved, and his new deal with the Timberwolves: I've played him a few times and he's a great player. I see himbeingreally good in the NBA. He's a good, athletic, open-court player who can score. I actually see him being really good in the NBA and surprising a lot of people.
connect with us & get a guide