Ginger Howard shooting for stardom

Howard, who grew up in Philadelphia, started playing golf when she was 6. Her father, Robert Howard, a former tennis player at Temple University, would regularly take Ginger and her little sister Robbi to the driving range. Both sisters picked up the sport quickly. Robbi, now 17, is one of the top junior players in the country.
Robert and his wife, Gianna, moved Ginger, Robbi and their two sons, Ar Jay and Giulian, to Maryland for a short time before heading down to Bradenton, Fla., so Ginger could get help from instructors at the IMG Golf Academy.
In 2010, Ginger became the first black female player to compete in the Junior Ryder Cup.
In 2011, despite scholarship offers from Duke and Florida, she decided to turn pro.
"It was a big decision for me," Howard said. "I had thought about going to college and playing golf. But I felt I was ready for the move."
Success came quickly. She won five times on the SunCoast Ladies Series, a developmental pro circuit in Florida.
But the SunCoast Ladies Series is not the place to strike it rich.
The Howards have made huge sacrifices for their kids. Robert, who used to work in retail management, gave up his job to travel with Ginger and be her caddie. Gianna works full time as a nurse for IMG Academy, and she home-schooled her daughter so Ginger could earn her high school diploma.
"It's a grind for us," Robert said. "It's a lot of traveling. We have Ginger, myself and her coach traveling with us to play in tournaments. Robbi has traveled with us as well. … These tournaments cost money. We need sponsors and donations to help with the expenses."
Holiday Inn is sponsoring Howard, but despite her success, it's still a struggle for the family. There are coaching, traveling and tournament fees that have to be paid.
"I really appreciate all the support from different people." Robert said. "It means a lot to us. It's a tough situation because if she doesn't make the cut, there's no money. We're all committed to get where she needs to be. It's not easy, but we're all working together."
Ginger also is working on something else.
Like fellow bright, young, black American golfers Shasta Averyhardt and Cheyenne Woods, Howard wants to be a role model for kids who are interested in playing the game.
"It's a big challenge," Howard said. "I'm learning and doing as much as I can. I want to be an inspiration for a lot of young people. I want them to know that you can achieve your goals through hard work and dedication."
Consider at least one person already inspired.
"The hard work is paying off for Ginger," said Robbi, who is not too far behind her sister in her golf development. "I've gone to a lot of the tournaments. I see what she's doing. I'm really proud of her. Our whole family and coaches are excited about what she's been able to do."
In 2012, Ginger led the Symetra Tour in putting average. Her best finish was a tie for second in April at the Riviera Nayarit Classic, where she earned $10,038. It was one of two paychecks Howard earned that was in the thousands instead of the hundreds.
"I really," she said, "want to make the Tour next year."
Photo by: Tracy Wilcox
connect with us & get a guide
Contact Us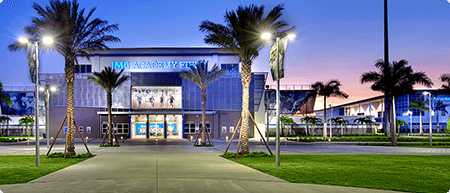 5650 Bollettieri Boulevard
Bradenton, FL 34210
Fill out the form below and we'll be in touch soon!
Request a brochure
We offer downloadable brochures about our boarding school, youth camps, adult programs, team training and pro/collegiate training in multiple languages.
Visit Us
Are you interested in touring the IMG Academy campus? Fill out the form below to submit a tour request and we will be in touch soon to confirm your request.