Herald All-Area Girls Soccer Player of the Year | Saint Stephen's Hannah Howell focused on goals

BRADENTON -- Hannah Howell was entering her sophomore year in high school when she made a monumental decision.
She focused on soccer, making cross country and track and field much less of a priority.
That fateful choice paved the way for the Saint Stephen's senior to blossom as a soccer player and net a collegiate career at Georgetown University in Washington, D.C.
It also lifted Howell to having her best prep season this past winter, and it's why she is the Herald's All-Area girls soccer player of the year.
"It means a lot," Howell said. "I had my best season, and I'm glad I'm rewarded for that and all my hours of blood, sweat and tears are finally coming to fruition."
Howell finished a scorching five years at Saint Stephen's with 101 career goals, capping her career with 39 goals this past winter.
She was easily the best player on the pitch for either side most nights she took the field.
Sometimes it was only for half a game as she balanced club soccer at IMG Academy with high school soccer at Saint Stephen's.
"That was definitely a constant battle," Howell said. "But I loved that IMG let me; it could have gone either way, honestly. I took it to a degree that most players don't. High school was so fun for me. I feel like it really helped my game because of all that responsibility that I have to take on. It was a perfect balance of training hard and then going out and experimenting a little bit."
The hard work impressed IMG director of girls soccer Bobby Johnston.
"Her dedication as she's proven is just at the highest level, and it's a testament that she's going to Georgetown," Johnston said.
Another factor in Howell's strong senior campaign came in the form of her two younger brothers, Toby and Henry.
All three siblings play soccer at Saint Stephen's, and Hannah was pushed by her brothers.
"No one calls me the best athlete in my family," Howell said. "I've been playing longer with them than I have with any other people in my life. I still love playing pickup time with them, because they don't go easy on me and I don't go easy on my brothers. One of them is 12, and I'm still treating him like he's an 18-year-old. We have a very good relationship where we push each other."
In high school competition, Howell was usually forced to take on two or three defenders at a time as the opposition attempted to crowd her off the ball, but the shifty forward/midfielder danced past the competition routinely, no matter how big or small the school was.
"She spent a lot of time working with Marcelo Carrera, her coach, and he's focused on her on more of the detailed aspects of the game," Johnston said. "Concentrating on her first touch, her turning, beating defenders 1 v. 1, just adding a couple of different moves into her play when she's running at defenders. So focusing on the finer points of her game has really elevated it."
For instance, in a late-season clash with eventual Class 4A state semifinalist Lakewood Ranch, Howell led the Class 1A Falcons with their lone goal of the match -- a scintillating effort from a good 35 yards out after she dribbled by a few defenders.
The Mustangs won the match 3-1, but it hardened the Falcons for the postseason grind. Howell was the one leading the club alongside fellow senior Alexis Sedillo.
Sedillo scored two goals, while Howell bagged a mind-boggling six to push the Falcons into a district championship match with St. Petersburg Shorecrest Prep.
Saint Stephen's finished 12-4-3, was runner-up in the district and was bounced in the first round of the regionals against Tampa Prep, but Howell was a key contributor in getting the Falcons to the postseason
And it's due in part to that decision to focus just on soccer and put cross country and track and field on the back burner before her sophomore season.
"Soccer is much more of a fun sport in my eyes," Howell said. "I actually went to a cross country camp over the summer coming into my sophomore year. And we were literally running 35 miles a day. And they (said), 'This is similar to what half of what preseason would be like for a college runner.' And I was like, 'Wow, this is really not what I would like to be doing.' And from that point on, I just grew to love soccer so much more, invested more of time in it and ... it definitely took prominence in my life."
connect with us & get a guide
Contact Us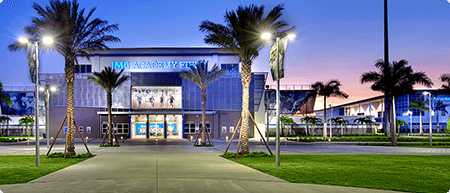 5650 Bollettieri Boulevard
Bradenton, FL 34210
Fill out the form below and we'll be in touch soon!
Request a brochure
We offer downloadable brochures about our boarding school, youth camps, adult programs, team training and pro/collegiate training in multiple languages.
Visit Us
Are you interested in touring the IMG Academy campus? Fill out the form below to submit a tour request and we will be in touch soon to confirm your request.