Hershel Caywood of Bradenton, Fla. wins IMG Academy Athletic and Personal Development Gatorade G-Award Week of August 12

Every week of camp, IMG Academy selects the Athlete of the Week sponsored by Gatorade. The honoree is bestowed the G-Award in recognition of the athlete who displays Heart, Hustle and Soul, and exhibits a true desire to reach their true athletic potential. 
The IMG Academy Athletic and Personal Development winner of the Gatorade G-Award for the week of August 12 is 19-year-old Hershel Caywood from Bradenton, Fla.
How long have you been playing football for?

I've been playing football since I was eight years old.
Who are your coaches?

Coach Kevin Heiberger and Nicholas Panetta.
What are your favorite things about IMG Academy and why?

My favorite things about IMG Academy is that they really pamper all of their players and give them all of the highest grade stuff. It's really nice to feel appreciated and get the same treatment as professionals. It's great seeing all of the professionals walking around too.
What professional athlete inspires you the most?

The professional athlete that inspired me the most used to be Junior Seau but God rest his soul. He was my favorite because he had the same race (Samoan) as me and he made it to the NFL, played linebacker and just really instilled the culture. I also just like watching all of the athletes at IMG Academy doing the best that they can to perform. I didn't really like tennis that much and then I started seeing tennis players here and I talked to one that was an Aussie playing in the US Open. That's just unreal. 
Do you have any pre-game rituals that help you prepare for a big game?

I just try to zone out and not really get distracted by anything.
What is your favorite thing to do after you win a game?

After I win a game, I like to chow down and celebrate.
What motivates you to push through a tough practice?

Knowing that this could decide whether we win or lose motivates me to push through a tough practice.
Photo by: Cindy Yu
connect with us & get a guide
Contact Us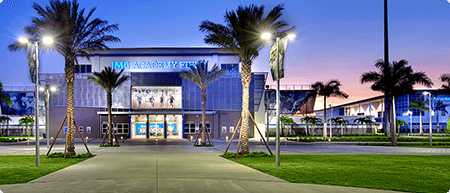 5650 Bollettieri BLVD.
Bradenton, FL 34210
Fill out the form below and we'll be in touch soon!
Request a brochure
We offer downloadable brochures about our boarding school, youth camps, adult programs, team training and pro/collegiate training in multiple languages.
Visit Us
Are you interested in touring the IMG Academy campus? Fill out the form below to submit a tour request and we will be in touch soon to confirm your request.