IMG Academy is ahead of the curve with innovative lacrosse strategy

On Saturday, May 11th the 2013 NCAA Division 1 Men's Lacrosse Tournament got underway. One game in particular stood out, as Denver played host to Albany.  During that game, 33 goals combined were scored in the game, with Denver edging Albany by a score of 19-14. Several of the best players on both teams carried many years of high-caliber box lacrosse experience — the realm in which several of the elite players taking the field this weekend rose to prominence and got their most valuable exposure as young players coming up the ranks (See this article in Inside Lacrosse).
The IMG Academy lacrosse program, similarly, has developed a training regimen that integrates the indoor box game with the outdoor field game. IMG Academy Director of Lacrosse, Bill Shatz, and his staff used a "Double Crosse" offense that uses many of the fundamentals of picking, screening and goal cutting developed through the indoor game this season. The different style of offense confused opposing defenses and was a direct contributor to IMG Academy leading the country in goals per game with 19.5.
IMG Academy Offensive Coordinator, Pat Haley, has seen the rise of the box game firsthand: "The benefit of being able to utilize box skills in the field game has never been more apparent. Not only are players with a box background shining on the biggest stage, top field players are taking notice and using box lacrosse to enhance their skill-set in the off-season."
connect with us & get a guide
Contact Us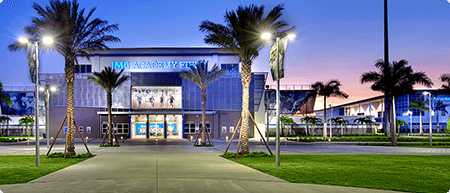 5650 Bollettieri Boulevard
Bradenton, FL 34210
Fill out the form below and we'll be in touch soon!
Request a brochure
We offer downloadable brochures about our boarding school, youth camps, adult programs, team training and pro/collegiate training in multiple languages.
Visit Us
Are you interested in touring the IMG Academy campus? Fill out the form below to submit a tour request and we will be in touch soon to confirm your request.