IMG Academy alum Kenny Kadji leads Canes past UNC

The University of Miami has started 2-0 in Atlantic Coast Conference play for the first time in its nine years in the league, getting 18 points from Kenny Kadji and two key blocks from the senior down the stretch en route to a 68-59 victory over North Carolina on Thursday night.
The Hurricanes (11-3) snapped a 10-game skid against the Tar Heels, who after going 14-2 in the ACC in each of the past two seasons have started with two leagues losses. Miami last defeated North Carolina in 2006.
It was another big night for Miami's front line, as Kadji and Julian Gamble combined to go 14 for 21 from the field with 15 rebounds and seven blocks. The Canes improved to 4-2 without injured center Reggie Johnson, who is sidelined with a broken thumb.
"It gives us great confidence, but we know it is the beginning of the conference season, and we really don't have a lot of time to dwell on this victory because we have a great Maryland team coming into our building on Sunday night hungry for a win," Gamble said. "We've got to get focused when we get back home."
North Carolina fell to 10-5 overall and remained a team searching for an identity.
"This will be one of those no-sleep nights, but I don't get much sleep anyway," said UNC coach Roy Williams, whose club was held to 33 percent shooting in the second half.
Neither team led by more than six points in a pace that favored UM. The Hurricanes then took the lead for good when Rion Brown sank a three-pointer from the left baseline in front of the Miami bench for a 54-52 lead with 8:24 left.
The Tar Heels managed just seven points the rest of the way as Trey McKinney Jones and Durand Scott each hit shots beyond the arc from the same spot as Brown to help fuel a 17-7 final surge.
"We shared the ball well in the second half," Kadji said. "I think they got a little bit tired at the end because we fought so hard inside and we hustled. In these ACC games you never know who is going to go on a run, and we were fortunate it was us this time."
"There were a lot of NBA guys in this game and all of them weren't in Carolina blue," Williams added, talking about the UM big men.
UM coach Jim Larranaga's gamble to leave Gamble in the game with four fouls and 5:55 remaining paid off as Gamble made a follow shot off a missed Scott three-pointer, showing off the Canes' fight under the basket all night.
"Coach told me that I'm the smartest guy on the team, so just go out there and play smart because we need you right now," Gamble said of his late foul trouble.
"When I got the offensive rebound I really wasn't worried about the refs calling a foul because they were letting us play throughout the game."
Kadji's two blocks came after consecutive turnovers and helped keep the Tar Heels at bay late.
"We knew they had pretty good big men. [James] McAdoo is supposed to be a lottery pick, and they have Brice Johnson and some other good big guys, so we knew we had to step up without Reggie," Kadji said. "I didn't want to give them any easy baskets up by six, so I just jumped and hoped the refs didn't call the foul."
Said Larranaga: "We were at the Dean Dome, it's Carolina and I never felt the game was over until the final horn sounded. Our guys did finish up pretty strong."
UM led 16-13 midway through the first half. But the Tar Heels went on a 17-8 run and looked as if they might build a double-digit margin at halftime. But Scott and Kadji nailed three-pointers in the final 1:57 to pull the Hurricanes within 32-30 at halftime.
Photo by: Getty Images
connect with us & get a guide
Contact Us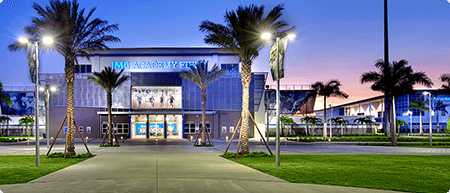 5650 Bollettieri BLVD.
Bradenton, FL 34210
Fill out the form below and we'll be in touch soon!
Request a brochure
We offer downloadable brochures about our boarding school, youth camps, adult programs, team training and pro/collegiate training in multiple languages.
Visit Us
Are you interested in touring the IMG Academy campus? Fill out the form below to submit a tour request and we will be in touch soon to confirm your request.