IMG Academy alumna Erika Tymrak named NWSL Rookie of the Year

IMG Academy alumna Erika Tymrak, a member of the Class of 2009, was named the National Women's Soccer League (NWSL) Rookie of the Year, the league announced on Tuesday. Tymrak started 16 games this season, finishing with six goals and four assists in 21 appearances for FC Kansas City. In July, she scored three goals and added an assist in six games as she led her team to a 3-0-3 record on her way to being named the NWSL Player of the Month for July. She was also voted NWSL Player of the Week for Week 15 after notching a goal and an assist in a 2-0 victory over the Seattle Reign on July 20.
Tymrak credits much of her success to her training with the IMG Academy Girls Soccer program. During an interview in April of this year, she said, "When I was [at IMG Academy], we had agility, weightlifting, mental conditioning and all the aspects that you have at college, but not a lot of people I knew at other high schools got to be a part of anything like that, so it's a new experience for them, but I was already acclimated to all of that, so transitioning to college wasn't really a change for me. As for my other teammates who had never experienced all those things, they had a harder time."
Her hard work and dedication paid off. As a student-athlete at IMG Academy, Tymrak was named the 2009 IMG Academy Female Soccer Player of the Year. She signed with the Florida Gators, where she went on to become the 2012 SEC Offensive Player of the Year. In 2012, Tymrak finished the season as the Gators' leader in goals (9), assists (12), points (30) and game-winning goals (5). Behind Tymrak's incredible effort, the Gators finished with a 19-5-1 overall record (11-2-1 SEC), an SEC Championship, and an appearance in the Round of 16 in the NCAA Women's Soccer Tournament. Tymrak was the 11th-overall selection in the inaugural NWSL Draft in January 2013. The NWSL awards were voted on by a selection of journalists that cover the league on a consistent basis, club officials and NWSL players.
Photo by: NWSL
connect with us & get a guide
Contact Us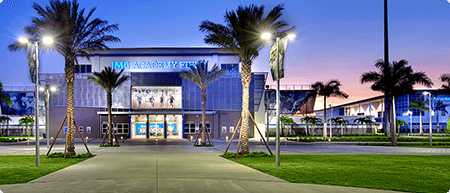 5650 Bollettieri Boulevard
Bradenton, FL 34210
Fill out the form below and we'll be in touch soon!
Request a brochure
We offer downloadable brochures about our boarding school, youth camps, adult programs, team training and pro/collegiate training in multiple languages.
Visit Us
Are you interested in touring the IMG Academy campus? Fill out the form below to submit a tour request and we will be in touch soon to confirm your request.