IMG Academy alumnus J.R. Murphy gets first-career start for New York Yankees

IMG Academy Baseball alumnus J.R. Murphy had another career milestone over the weekend - his first career-start at catcher for the New York Yankees. Murphy, who grew up a fan of the Boston Red Sox, could not have had a more appropriate venue for his first start than at Fenway Park against the BoSox. Unfortunately for the 22-year old, the Yankees were on the losing end of the game, but Murphy drew positive reviews from manager Joe Girardi.
See the whole story from YES Network below:
J.R. Murphy got the call for his first Major League start on Saturday, as the rookie catcher saw his name in the lineup against the Red Sox at Fenway Park.

The 22-year-old Murphy, ranked as the Yankees' No. 12 prospect, had played in five previous September games. He paired with left-hander CC Sabathia and went 0-for-2 with a walk in the Yankees' 5-1 loss.

"I was excited before the game," Murphy said. "My nerves calmed down after the first inning and I was fine. I settled down and it was a lot of fun. I wish we were on the winning end."

Murphy has been mostly catching bullpen sessions this month, but Chris Stewart has already played in 100 games, well exceeding manager Joe Girardi's original estimate of about 60. Yankees catcher Austin Romine is also recovering from a concussion.

"It's been a grueling schedule here, and I just felt that we had to give Stew a little bit of a break today," Girardi said. "I won't be afraid to use him later. I'm not ready to use Romine yet, so the kid was called upon."

A second-round pick (76th overall) in the 2009 First-Year Player Draft, Murphy played in two games against the Red Sox at Yankee Stadium earlier this month.

He batted a combined .269 with 12 home runs and 46 RBIs this season between Double-A Trenton and Triple-A Scranton/Wilkes-Barre, and Girardi described Murphy as a "cool and calm" receiver behind the plate who "didn't look overwhelmed" by the situation.

"I don't think he gets too emotional back there," Girardi said. "He's improved a ton as a catcher over the couple of years that I've seen him. He swings the bat well. I think he retains [information] pretty well, and obviously that's important."
Photo by: Getty Images
connect with us & get a guide
Contact Us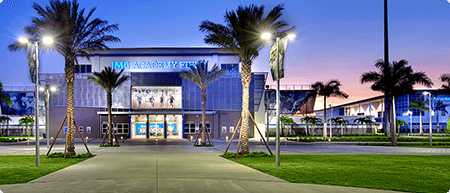 5650 Bollettieri Boulevard
Bradenton, FL 34210
Fill out the form below and we'll be in touch soon!
Request a brochure
We offer downloadable brochures about our boarding school, youth camps, adult programs, team training and pro/collegiate training in multiple languages.
Visit Us
Are you interested in touring the IMG Academy campus? Fill out the form below to submit a tour request and we will be in touch soon to confirm your request.