IMG Academy and the United Soccer Leagues (USL) continue to evolve relationship

IMG Academy and the United Soccer Leagues (USL) have developed a strong relationship over the past two years, as the USL hosts the USL Pro Combine, Olympic Development Team events and various national championships at IMG Academy's world-class facilities.
"Alec Papadakis, the USL CEO, and Peter Mellor, the USL National Technical Director, are great, honest people that run a fantastic organization," said Scott Dean, Director of Soccer, IMG Academy. "We align ourselves with groups that we believe to be on top in their division, and USL is one of those organizations. Although we're two separate entities, we work very well together. Each year, our relationship expands and we do more and more with them."
The USL is the only organization in the country that has soccer programs ranging from the youth level to the professional rankings, including the USL Pro, Major Indoor Soccer League (MISL), Premier Development League (PDL), W-League, W-20 League, Super Y-League and Super-20 League. Founded in 1986, it is the largest organization of elite-level soccer leagues in North America, with teams located in the United States, Canada and the Caribbean. Devoted to developing soccer at the grassroots level in every community across the region and providing a clearly defined path for the progression of soccer players, the USL continues to be a driving force in the growth of the sport.
By bringing in an influx of players from all over the continent, the USL generates enormous exposure, visibility and college recruiting opportunities for the IMG Academy soccer program, especially from markets often untapped into. The Super Y-League North American Finals alone brings in between 10,000 and 12,000 players and spectators over a five-day span.
"Being that we're the official host site for USL events, that certainly gets articulated through their local markets," Dean remarked. "Certainly every time the IMG Academy name is in front of somebody, it may draw more traffic to our website."
Not only are campers and visitors inspired from watching professional athletes train at IMG Academy, but also they are astonished by the quality of the facilities IMG Academy has to offer.
"At IMG Academy, when kids can see it, feel it and touch it, it makes sense to them," Dean noted. "Most of these kids are not used to playing on fields of this caliber, so it's neat when they tell you how they've never seen anything so beautiful."
Additionally, with an impressive support staff from the coaches to the college placement advisors, IMG Academy checks off nearly every box on a player's wish list. By buying into the lifestyle, IMG Academy trainees can maximize their ability to become more.
Furthermore, the USL events provide IMG Academy the opportunity to promote their own players. IMG Academy even has its very own PDL and Super-20 League teams.
Earlier this month, the IMG Academy Super-20 League team finished first in its division and second overall nationally in the Super 20 First 11 Rankings.
"From the very first day, Oscar Pisano, Ferdi DeMatthaeis and I knew we had something special with the young team we selected from tryouts," expressed head coach Marcelo Carrera. "The players were talented and the chemistry was really good. Everyone always worked hard, showed up and brought a lot of support regardless if he was playing or on the bench."
The relationship between IMG Academy and the USL continues to evolve. With the USL looking to create an even larger footprint, its continual physical growth and aim to stimulate broader appeal will certainly increase IMG Academy's market reach.
"I think we're at a capacity now where we know how the other thinks and what each other's needs are," Dean said. "Our focus is now tailored towards how to improve events from an execution standpoint to attract more kids rather than adding more layers and events. By focusing on the quality of events and bulking up what we already have, we will be able to run events with better efficiency, quality and productivity in terms of size."
Dean continued: "It's kind of like a living, breathing organism that we're cultivating in water like a flower. We're nurturing this thing along and getting it to be really strong and healthy. I just feel that this is the best type of relationship and will ultimately benefit both parties as much as possible."
Dean and Mellor recently collaborated to launch the Next Generation Series (NextGen), a new youth soccer initiative and educational platform established to develop the complete elite youth soccer player through an eight-month, elite-level league. With the new stadium set to be completed this week, and further renovations and expansions to be made, the possibilities of using IMG Academy to host large-scale events are endless.    
connect with us & get a guide
Contact Us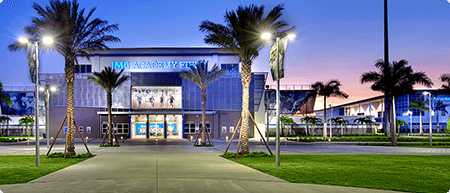 5650 Bollettieri Boulevard
Bradenton, FL 34210
Fill out the form below and we'll be in touch soon!
Request a brochure
We offer downloadable brochures about our boarding school, youth camps, adult programs, team training and pro/collegiate training in multiple languages.
Visit Us
Are you interested in touring the IMG Academy campus? Fill out the form below to submit a tour request and we will be in touch soon to confirm your request.