IMG Academy announces 2013 All-Madden Team

Today IMG Academy announced the 2013 IMG All-Madden Team, featuring 27 of the nation's top high school football players selected for their exemplary on-field and classroom performance at the invitation-only All-Madden Mini-Camp, held July 26-28 at IMG Academy. Former NFL quarterback and Heisman Trophy winner Chris Weinke directed the camp, which simulated the intensity and atmosphere of an NFL training camp.
"The 2013 IMG Academy All-Madden Team members were selected by coaches with a wealth of collegiate and NFL experience, for their work ethic, leadership abilities, and their ability to effectively apply what they were taught on the field," said Chris Weinke, Director of Football, IMG Academy. "We congratulate this talented group of young men and wish them the best of luck in their upcoming seasons."
Chris Weinke and his staff possess a wealth of experience coaching high school, collegiate and professional players. Most recently, they helped prepare seven 2013 NFL Draft first-round selections, including: No. 2 overall pick, OL Luke Joeckel (Jacksonville Jaguars), No 13 overall pick, DT Sheldon Richardson (New York Jets); No. 18 overall pick, S Eric Reid (San Francisco 49ers); No. 21 overall pick, TE Tyler Eifert (Cincinnati Bengals); No. 23 overall pick, DT Sharrif Floyd (Minnesota Vikings); No. 24 overall pick, DE Bjoern Werner (Indianapolis Colts); and No. 27 pick, WR DeAndre Hopkins (Houston Texans).
2013 IMG Academy All-Madden Team:
Offense
QB: David Hernandez (Shibuya-Ku, Tokyo, Japan/American School (Japan))
RB: Josh Hicks (Palmetto, Fla./Palmetto HS)
WR: Wesley Jackson (Bradenton, Fla./Bayshore HS)
WR: Chad Lewellyn (Louisville, Ky./Christian Academy)
WR: Lavon Lane (Simpsonville, S.C./Hillcrest HS)
OL: Alex Harrison (Tallahassee, Fla./North Florida Christian)
OL: Mark Miller (Greenwood, Colo./Riverview HS)
OL: Grayson Olguin (Austin, Texas./Austin HS)
OL: T.C. Williamson (Bradenton, Fla./Bayshore HS)
OL: Wade Grady (Ridgeland, Miss./Ridgeland HS)
ATH: Vi'Cente Walker (Augusta, Ga./ Lucy Craft Laney HS)
ATH: Matt Andreas (Danvers, Mass./Danvers HS)
Defense
DL: Ryan Hintze (Bradenton, Fla./Braden River HS)
DL: Monroe Luther (Springlake, Texas/Springlake-Earth HS)
DL: Wyatt Simmons (Austin, Texas/Austin HS)
DL: Domenico Cipriani (Toronto, Ontario, Canada/Villanova College)
LB: Jeff Stokes (Ypsilanti, Mich./Lincoln HS)
LB: Nathaniel Bowe (Willingboro, N.J./Burlington Institute)
LB: Marcus Balliette (Bradenton, Fla./Braden River HS)
LB: Kenyatta Dunbar (North Augusta, S.C./Strom Thurmond HS)
DB: Jon Rodriguez (Muck City, Fla./Glade Day HS)
DB: Kenyatta Anderson (Gulfport, Fla./Boca Ciega HS)
DB: Javeer Hammond (Johnston, S.C./Strom Thurmond HS)
ATH: Lloyd Campbell (Glenwood, Minn./Phillips Exeter Academy)
Special Teams
Kicker: Nicholas Pritchard (New Egypt, N.J./New Egypt HS)
Honorable Mention:
QB Kyle Burnett (Dallas, Texas/Highland Park HSl)
RB: Dwayne Loper (West Chester, Pa./West Chester Rustin HS)
WR Juwaan Jenkins (Bradenton, Fla./Manatee HS)
OL Noah Bentley (Sarasota, Fla./Riverview HS)
DL Brandon Roseberry (The Colony, Texas/The Colony HS)
LB Josh Black (Tampa, Fla./Sickles HS)
DB Ray Ray McCloud, III (Tampa, Fla./Sickles HS)
Photo by: Zachary Dash
connect with us & get a guide
Contact Us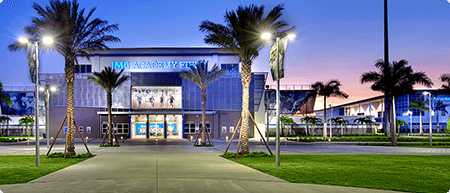 5650 Bollettieri Boulevard
Bradenton, FL 34210
Fill out the form below and we'll be in touch soon!
Request a brochure
We offer downloadable brochures about our boarding school, youth camps, adult programs, team training and pro/collegiate training in multiple languages.
Visit Us
Are you interested in touring the IMG Academy campus? Fill out the form below to submit a tour request and we will be in touch soon to confirm your request.