IMG Academy Ascenders suffer first loss in epic battle at Trinity Christian, 27-24

The IMG Academy Ascenders football team (7-1) ventured north to take on the Trinity Christian Conquerors (6-1) of Jacksonville, Fla. on Oct. 18. Led by 2015 consensus five-star prospects Jeff Holland and Kevin Toliver, II, and senior Louisville commit Isaiah Ford, it would prove to the be the Ascenders' toughest test to date. After a defensive struggle in the first half, the Ascenders took its first lead of the game in the third quarter after a 38-yard TD pass from QB Michael O'Connor to Bo Scarbrough to go up 9-8. However, Trinity answered with a pair of touchdowns in the fourth quarter, both by Conquerors WR Isaiah Ford, who tallied end-around touchdowns of 16 and 17-yards in back-to-back possessions. The Ascenders rallied late, but could not recover the lead, falling short toTrinity by a score of 27-24.
On the night, Alabama commit Bo Scarbrough notched one rushing touchdown on a 10-yard draw midway through the fourth quarter, bringing him to 16 total rushing scores on the season. Penn State commit Michael O'Connor finished with two touchdown passes, his second coming late in the fourth to RB Jack Wegher to get the Ascenders within three. O'Connor now has 15 touchdown passes on the season.
The Football program will have a chance to regroup with a bye week, before returning to action for the final regular season home game of the season on Halloween night against Clearwater Central Catholic, Oct. 31 at 7:00 p.m. The game will be televised regionally by Brighthouse Sports Network (Brighthouse Channel 47 and 1147). Get your tickets now by clicking HERE. 
Box Score: 
IMG Academy 24, Trinity Christian (Jacksonville) 27
IMG 3 0 6 15 -- 24
TC 0 8 0 19 -- 27
First Quarter
IMG – Jackson Dick 42 field goal, 1:11
Second Quarter
TC – Jalin Buie 5 run (Andre Smith 2-pt run), 6:06
Third Quarter
IMG – Bo Scarbrough 38 pass from Michael O'Connor (2-pt run failed), 4:36
Fourth Quarter
TC – Isaiah Ford 16 run (2-pt run failed), 9:43
TC – Isaiah Ford 17 run (2-pt run run failed), 6:20
IMG – Bo Scarbrough 10 run (Scarbrough 2-pt run), 3:21
TC – Jalin Buie 80 run (Frankie Onate kick), 3:05
IMG – Jack Wegher 19 pass from Michael O'Connor (Jackson Dick kick), 1:54
IMG//TC
First downs 14 // 17
Rushes-yards 23-94 // 54-292
Passing yards 179 // 52
Passes 13-20-1 // 6-13-0
Punts-Avg. 1-10.0 // 2-44.0
Fumbles-Lost 1-1 // 1-0
Penalties-Yards 8-57 // 15-162
INDIVIDUAL STATISTICS
RUSHING – IMG, Bo Scarbrough 14-85, Michael O'Connor 4-16, Mike Daniel 2-0, Jack Wegher 3-(-7). // TC, Jalin Buie 22-185, Kevin Tolliver 12-54, Isaiah Ford 3-29, Andre Smith 2-18, Chris Barr 2-10, Jaquez Riles 4-6, Jeff Holland 3-5, Gage Morrell 1-2, Rasheed Martin 1-0, Hunter Tomlin 1-(-11).
PASSING – IMG, Michael O'Connor 13-20, 179 yards, 2 TDs, 1 int // TC, Jaquez Riles 6-of-12, 52 yards, Isaiah Ford 0-of-1.
RECEIVING – IMG, Casey Gunderson 4-65, Vosean Crumbie 6-51, Bo Scarbrough 2-44, Jack Wegher 1-19 // TC, Chris Barr 2-26, Jeff Holland 1-14, Isaiah Ford 1-7, Jalin Buie 2-5.
connect with us & get a guide
Contact Us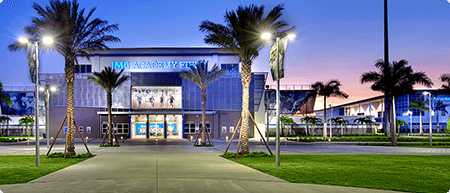 5650 Bollettieri BLVD.
Bradenton, FL 34210
Fill out the form below and we'll be in touch soon!
Request a brochure
We offer downloadable brochures about our boarding school, youth camps, adult programs, team training and pro/collegiate training in multiple languages.
Visit Us
Are you interested in touring the IMG Academy campus? Fill out the form below to submit a tour request and we will be in touch soon to confirm your request.