IMG Academy Baseball wins 2013 Cleats Classic

Facing a grueling schedule of eight games in four days due to inclement weather, the IMG Academy varsity baseball team fought through adversity to take the 2013 Cleats Classic Invitational title in Arizona!
Facing programs from Arizona and California, IMG Academy came back to win four straight games after going 1-3 in pool play to be crowned the 2013 champions.
Entering the Championship Tournament Bracket Wednesday as the 11th seed in the tournament, IMG Academy found their swings and pulled past Bradshaw Mt. and Tucson in back-to-back games. Stanford commit Brett Hanewich, who allowed one earned-run throughout the tournament, then pitched three strong innings in the semi-final matchup against Williams Field, helping lead IMG Academy onto the Championship game.  
The Championship game brought out the best in both IMG Academy's offense and defensive play.
"All year long these guys have been battling and they've been so stinking close and I knew it was coming—I just didn't know when," said IMG Academy Head Coach Jason Elias to Perfect Game. "Fortunately the bats just erupted over these last four games" 
IMG Academy's bats came to life against Desert Ridge as senior Manny Ramirez Jr.'s Grand Slam and two-run double helped to secure a 9-1 win. Ramirez went 12-23 overall in the tournament with a .522 batting average, 15 RBI and 2 home runs. While IMG Academy put on an offensive show with a total of 5 home runs in the tournament (Ramirez 2, Andrew DiLacqua, Carter Hodge and Jackson Murphy), it was pitchers Sam Proctor, Cristian Fajardo and Carter Hodge who led IMG Academy with a one-hit performance in the championship game. 
"I knew that we would have a shot to get through pool-play and anytime you're playing a large number of games in a short period of time, if the bats light up you have a shot," Elias said. "That's kind of what happened these last four days and it was fun to watch – just fun baseball." 
For their efforts, Manny Ramirez Jr. (12-23 (.522), 2 HR, 15 RBI, 3 doubles, 2 triples) was named as the Cleats Classic MVP, and his teammates Trevor Courtney (11-21 (.524), 3 doubles, 2 triples, 9 RBI); Mitchell Gallagher (18-29 (.621), 2 doubles, 8 runs, 1 win, 3.1 IP); and Jackson Murphy were named to the All-Tournament Team. 
Other individual highlights of the 2013 Cleats Classic: 
•Tyler Biggs: 11-28 (.393), 2 doubles, 7 RBI
•Andrew DiLacqua: 9-27 (.333), 2 doubles, HR, 8 RBI
•Carter Hodge: 8-27 (.296), HR, 8 RBI, Save
•Brett Hanewich: 9 innings pitched, 2 wins, 3 hits, 1 ER, 12 K
connect with us & get a guide
Contact Us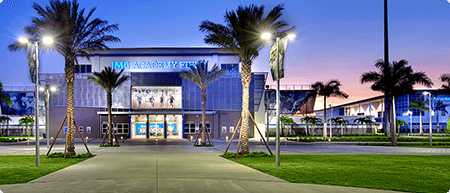 5650 Bollettieri BLVD.
Bradenton, FL 34210
Fill out the form below and we'll be in touch soon!
Request a brochure
We offer downloadable brochures about our boarding school, youth camps, adult programs, team training and pro/collegiate training in multiple languages.
Visit Us
Are you interested in touring the IMG Academy campus? Fill out the form below to submit a tour request and we will be in touch soon to confirm your request.