IMG Academy basketball program paves the way for future success

As the nation's premier prep school for preparing student-athletes to succeed at the collegiate level and beyond, IMG Academy integrates elite academics, world-class athletics and personal development in a challenging yet supportive learning environment. Many, like Cam Houston, would credit IMG Acacdemy for helping them find their best fit to succeed at the next level.
Cam Houston of the IMG Academy Class of 2013 praised how Clarion, a D-II college, was the right fit for him. Similar to many of his peers, Houston initially dreamed of playing for a basketball powerhouse like Duke or North Carolina. He realized that not everyone is ready to compete at that level but alternative paths to reaching collegiate and professional goals exist. Excited to gain exposure at the collegiate level, Houston looks to make an impact on the Eagles.
"All of the coaches I've talked to that have seen my film have told me that they think I have a high possibility of becoming an All-American in this league," Houston said. "I've been a good player, and now I could be potentially winning All-Americans and having the chance to win a ring with a team, which is one of my all-time greatest goals."
Another recent IMG Academy graduate, Tommy Hamilton, looks forward to playing D-I basketball at DePaul University. He hopes to join the likes of Chicago hoops legends Dwayne Wade and Tim Hardaway in bringing a positive influence back to the Windy City through basketball. With the help of IMG Academy, Hamilton has improved physically and strategically, on and off the court. To set up for collegiate level basketball, Hamilton has increased his pace by playing with a shot clock against junior colleges this past year.
The IMG Academy Basketball program measures success by focusing on fulfilling the potential of each player rather than solely producing as many D-I student-athletes as possible. IMG Academy specializes in providing students a realistic expectation and the necessary tools to succeed at the next level.
By building a strong foundation of skill sets from the bottom up and teaching advanced techniques, IMG Academy has produced the most innovative and effective basketball training program worldwide. Through a multifaceted approach to player development that features competition, player evaluation and position-specific instruction, the program has produced great success under the guidance of Director Kenny Natt, a former NBA coach; and Dan Barto, the head skill trainer renowned as one of the best private basketball instructors.
Natt emphasizes how success comes in different packages and from the standpoint of what students are able to accomplish with their skills. He himself played collegiately for Louisiana Monroe, a school that did not compete at the Division I level until 1978, and he lacked exposure before playing professionally in the NBA.
Committed to Hampden-Sydney, a D-III school in Virginia, Zach Tabrani came to IMG Academy to maximize his opportunity in becoming the best player he could be. Tabrani is ready to return to Virginia to show how much he has improved and to make an immediate impact on the team. 
"As a basketball player, you want to play at the end of the day," Tabrani said. "The only way you can become the best player of your ability is to actually be out there in front of a crowd representing something. I chose a D-III school because I felt like that was the best spot for me to show my abilities and to play the game of basketball, rather than to just be a bystander."
Furthermore, Natt explained how the experiences and knowledge gained at IMG Academy extend far beyond the scope of playing the sport. Many student-athletes utilize their strengths to thrive in various sectors as they go on to run businesses and headline scientific breakthroughs.
Cali, Colombia native Juan Zapata plans on attending Indiana University in the fall as a basketball student manager. After injuring his knee and undergoing surgery his senior year, Zapata reflected on his appreciation and immense knowledge about the sport. Zapata decided to not play in college and instead, concentrate more on the technical aspect of basketball. The Hoosiers provide him the best of both worlds – a strong undergraduate business program and a legendary basketball program. Though Zapata may not be on the playing end of the floor, he is ready to move onward and make an impact in the sport.
IMG Academy develops more than just high-performing basketball players; it strives to develop successful leaders in all divisions of basketball.
Photo by: IMG Academy
connect with us & get a guide
Contact Us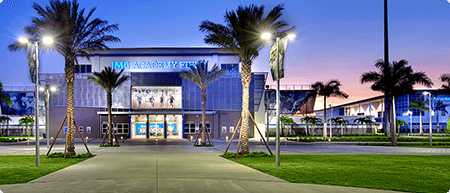 5650 Bollettieri Boulevard
Bradenton, FL 34210
Fill out the form below and we'll be in touch soon!
Request a brochure
We offer downloadable brochures about our boarding school, youth camps, adult programs, team training and pro/collegiate training in multiple languages.
Visit Us
Are you interested in touring the IMG Academy campus? Fill out the form below to submit a tour request and we will be in touch soon to confirm your request.