IMG Academy Basketball program welcomes 14-year old Tony Colton to the team
Last week, the IMG Academy Basketball Program's post-graduate and junior varsity teams gathered to welcome their newest teammate, Tony Colton of Sarasota, Fla. Colton looks to provide motivation and encouragement to the team to reach higher and never quit, even when the odds are against them. Considering Colton has survived an intense battle with cancer for nearly three-years, he knows that there are no odds to great to overcome.
"This is going to be a great experience, because with the post-graduates, having these older role models will be incredible, and with the junior varsity team, they're my age so it will be awesome to have new friends and maybe play some basketball with them," explained Colton. "I hope to learn more about how to be true to yourself and stay with your goals, because all these guys have obviously stuck with wanting to play basketball and worked hard to be here."
Colton added: "But I want to inspire the team to never, ever give up on something they will have to fight for, physically and mentally, whether it's a game, hard times in life - anything, because you're going to run into difficult times in life."
Prior to his diagnosis, Colton competed in track and field events and ran cross country. It was at a camp in 2011 that he first began to experience severe abdominal pain. After several doctor's visits and tests, cancer was discovered in his kidney and had to be removed. Following the procedure and subsequent chemotherapy and radiation, it was enough for doctors to declare him in remission. Nearly a year to the day he was told he was in remission, Colton received the news that the cancer had returned. After another battery of chemotherapy and radiation sessions, Colton is once again in recovery, hoping to hear that he is in remission again; this time for good.
"It's beyond inspiring to have someone like Tony here, because I can already tell he's going to push us to dig deep, and play from our heart and give everything we have to give," said Thomas Rowland, a native of Woodstock, Ga. and member of the post-graduate team. "He's going to be a missing piece to the team, and someone we know is going to support us no matter what."
With his playing days behind him, Colton remains a sports enthusiast, and has taken a constructive approach to his circumstances. He regularly serves as a motivational speaker for the Pediatric Cancer Foundation in the St. Petersburg-Tampa-area, working to raise awareness of cancer and letting know audiences what they can do to help.
"With this young man having gone through everything he has gone through, he's going to be an inspiration to us to persevere through obstacles throughout the year," commented Kenny Natt, IMG Academy Director of Basketball. "Our players are going to embrace him as a teammate, and he's going to have as much of an impact on us, as I hope we have on him."
Colton was introduced to the team through the Friends of Jaclyn Foundation (FOJ). The FOJ is a non-profit organization that pairs children battling pediatric cancer with sports teams. For the children, it is an uplifting, non-invasive form of treatment, and for the teams they join, it gives the players a greater sense of perspective and appreciation for the gifts they have been given.
"There's no chemotherapy, there's no radiation treatment and there's no clinical trial drug more powerful than what IMG student-athletes are going to give to Tony, which is love, support and friendship," remarked Denis Murphy, the founder of Friends of Jaclyn.
Murphy continued, "This is not a one-season relationship, Tony will be part of the team, and as these athletes move on and new ones come in, they're going to remain a part of his life - it's the true sense of the word 'adoption,' which is about love."
Colton's adoption was the second on campus since FOJ and IMG Academy joined forces. In August, the IMG Academy Football program welcomed five-year old Josh Fisher of Odessa, Fla. to the program. Since then, Fisher and his family have been on the sidelines of nearly every football game. The relationship with FOJ is part of an ongoing campus-wide initiative that includes all team sports.
connect with us & get a guide
Contact Us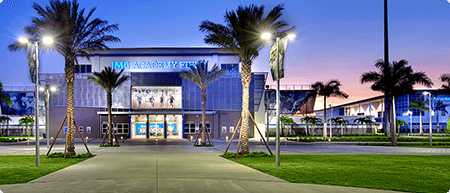 5650 Bollettieri Boulevard
Bradenton, FL 34210
Fill out the form below and we'll be in touch soon!
Request a brochure
We offer downloadable brochures about our boarding school, youth camps, adult programs, team training and pro/collegiate training in multiple languages.
Visit Us
Are you interested in touring the IMG Academy campus? Fill out the form below to submit a tour request and we will be in touch soon to confirm your request.