IMG Academy in Bermuda to coach Bermuda Football Association youth teams

IMG Academy soccer coaches are in Bermuda this week where they are coaching Bermuda's boys and girls youth national academy players through a Bermuda Football Association [BFA] initiative.
"We are excited about this latest endeavor to come out of our growing relationship with the Bermuda Football Association," remarked Scott Dean, Director of Soccer, IMG Academy.
"Bermuda is a talent-rich nation and we are honored to bring our coaching experience to their youth national academy program as they seek to maintain a high level of player development."
Beginning in 2012, Bermuda sent a senior high school select team, Bermuda BSSF, to compete in the prestigious IMG Cup at IMG Academy. The team was comprised of select players – many of whom play for the Bermuda National Team.
Bermuda will send a team to compete once again in the 2013 IMG Cup. Additionally, IMG Academy alumnus Taurean Manders is a member of the Bermuda Men's National Team.
"It's an honor for us to have IMG Academy here as part of our week-long youth national team camp," said Richard Todd, National Academy Director, BFA.
"As an organization, we are always looking for opportunities to expose our athletes to the best training available and IMG Academy represents that. We look forward to further developing our relationship with IMG Academy."
The BFA National Academy team camps are provided at no cost to the players through the partnership with Catlin, who is currently entering the third year as the programs major sponsor.
Mr Todd continued, "We are pleased that Catlin has continued to support the National Academy program and provide such opportunities as the school break camps, which have been a valuable addition to the player development program.
"Their support is impacting more than the technical enhancement of our players on the field, as the NA camp programs include performance training [CrossFit and Water Resistance Training], team building activities, community service projects, life skills development, college eligibility workshops, and college recruitment tools."
Along with Scott Dean, IMG U14 Academy coach, Jared Vock, will spend time working with and assessing players from the U12-U18 boys and girls' teams. Travelling along with the coaches is Matt Baehr, Business Manager for IMG Soccer, who will deliver an informative presentation on the IMG Soccer Academy to players and parents.
The presentation will be held at the National Sports Center Pavilion on Tuesday, October 29, 2013 starting at 6:30 PM. Anyone interested in learning more about the IMG Academy program is welcomed to attend.
IMG Academy, which is home to U.S. Soccer's U17 Men's Residency Program, has a long history of developing players for collegiate and professional success. IMG Academy and IMG Professional Development League alumni include: Aron Johannsson (U.S. Men's National Team); Anthony Farrell (#1 overall pick in 2013 MLS SuperDraft); Zarek Valentin (Bodø/Glimt in Norway); Bryane Heaberlin (U.S. U20 Women's National Team); DaMarcus Beasley (U.S. Men's National Team); Heath Pearce (U.S. Men's National Team; New York Red Bulls); Anthony Ampaipitakwong (Bangkok United in Thai Premier League); Michael Parkhurst (FS Augsburg in the German Bundesliga); Gale Agbousoumonde (Toronto FC in MLS); and Kofi Sarkodie (Houston Dynamo in MLS).
Credit to: Bermuda News
connect with us & get a guide
Contact Us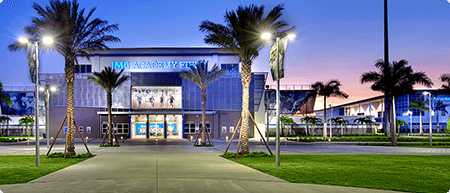 5650 Bollettieri Boulevard
Bradenton, FL 34210
Fill out the form below and we'll be in touch soon!
Request a brochure
We offer downloadable brochures about our boarding school, youth camps, adult programs, team training and pro/collegiate training in multiple languages.
Visit Us
Are you interested in touring the IMG Academy campus? Fill out the form below to submit a tour request and we will be in touch soon to confirm your request.