IMG Academy downs Clearwater Central Catholic in Halloween overtime thriller, 19-13

"Trick or treat," remarked IMG Academy Head Coach Chris Weinke after a stunning fourth quarter rally and overtime win. And what a treat it was for the Ascenders, who improved to 8-1 on Halloween night, the senior class' final home game.
"That was about as crazy as it gets - usually you don't see all of those things happen in one game," Weinke added. "It's a testament to our football team for not giving up. Things did not look good early on... but in the second half we found some things, and Mikey Daniels did a heck of a job running the football for us late in the game. Hats off to these players, the coaching staff and the fans who came out to enjoy a great high school football game."
The Ascenders struggled for much of the game, but fate would intervene in the second half.
During the fourth quarter, the Marauders began to see their momentum fade when an interception return for a touchdown was called back for pass interference.
Then, with the ball at the Ascenders' one-yard line, CCC's resolve was crushed with 5:46 to go in the game they turned the ball over with a fumble. DE Kyle Forde of Toronto, Canada pounded on the loose ball to give the Ascenders one more shot at redemption. Down 13-7, QB Michael O'Connor led the team on a 99-yard clock-killing drive that was capped off with a 19-yard strike to WR Casey Gunderson. With the game tied at 13-all, the extra point attempt was blocked to send the game into overtime.
The Marauders took the ball first in OT, and on third-down, LB John Tauber intercepted CCC QB Jeff Smith's third down pass to end their first possession. Then, in a flash, RB Mikey Daniel put the game on ice with a 10-yard run to pay dirt to give IMG Academy a 19-13 win in OT.
"It was exciting - there was only one guy to beat," said Daniels of his game-winning run. "Freddy [Schroeder], my man, made a great block and led me right to it… It's our house and our night for our seniors, and we fought hard for the seniors."
Penn State commit Michael O'Connor added: "What a crazy way to go out. Last game of the inaugural season, Senior Night, Halloween and an overtime thriller. I can't say enough about this team. We stuck together, were resilient and I love these guys. I've never played in a game like this, but we couldn't have made it any more dramatic for the fans."
The Ascenders (8-1) will conclude their inaugural season on the road at Naples High School in Naples, Fla., Friday, November 8. Kickoff is scheduled for 7:30 p.m.
Box Score: 
IMG Academy 19, Clearwater Central Catholic 13
CCC 7 3 0 3 0 – 13
IMG 0 0 7 6 6 – 19
First quarter
CCC – CJ Cotman 34 run (Yanni Ramos kick), 7:08
Second quarter
CCC – Ramos 38 field goal, 8:06
Third quarter
IMG – Michael O'Connor 1 run (Jackson Dick kick), 3:02
Fourth quarter
CCC – Ramos 30 field goal, 8:04
IMG – Casey Gunderson 11 pass from O'Connor (Kick failed), 0:13
Overtime
IMG – Mikey Daniel 10 run
TEAM STATS: CCC  IMG 
Rushing, Att-Yds   41-185  25-51
Passing Yds  153  151
Comp-Att-INT  13-22-1  14-24-1
RUSHING
Clearwater Central Catholic 41-185: Diquan Walker 3-3, Conner Dorris 3-4, JT Steele 8-22, Cotman 3-43, Jeff Smith 12-80, Scott DePergola 5-22, Blake Gomez 1-(-9), Eric Davis 6-20. IMG 25-51: Jack Wegher 11-27, Sean Daniel 1-(-12), O'Connor 3-(-3), M. Daniel 9-38, Robbie Liebel 1-1.
PASSING
Clearwater Central Catholic 13-22-1, 153: Smith 13-22-1, 153. IMG 14-24-1, 151: O'Connor 14-24-1, 151.
RECEIVING
Clearwater Central Catholic 13-153: Gomez 1-7, Cotman 3-55, Jacobi Adderley 3-50, Walker 1-16, Kyle Brittain 1-15, Steele 1-(-1), Demetri Royer 1-1, John Brunner 1-8, Brandon Junk 1-2. IMG 14-151: S. Daniel 3-41, M. Daniel 2-12, Wegher 5-42, Gunderson 2-17, Vosean Crumbie 2-39.
INTERCEPTIONS
Clearwater Central Catholic 1-25: Brittain 1-25. IMG 1-0: John Tauber 1-0.
Photo by: IMG Academy
connect with us & get a guide
Contact Us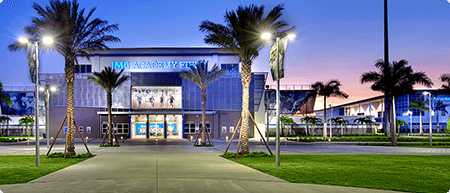 5650 Bollettieri BLVD.
Bradenton, FL 34210
Fill out the form below and we'll be in touch soon!
Request a brochure
We offer downloadable brochures about our boarding school, youth camps, adult programs, team training and pro/collegiate training in multiple languages.
Visit Us
Are you interested in touring the IMG Academy campus? Fill out the form below to submit a tour request and we will be in touch soon to confirm your request.