IMG Academy Facebook "Free Week of Camp" contest winner, Nisha Rajamohan, brings fighting spirit to campus

Born with only half of a right arm, IMG Academy Bollettieri Tennis camper Nisha Rajamohanhas not let her physical disability set her back on her mission to play at the collegiate level.
Since she was just six-months old, Rajamohan has sported a prosthetic right arm that is replaced on a regular basis. The Waterford, Conn. native even joked about how she has had to increase her visits due to the stench and sweatiness that playing tennis produces.
With eight years of tennis experience under her belt, Rajamohan is a force to be reckoned with on the court. The 15-year-old is entering her junior year at Waterford High School this fall as the No. 1 singles player on the Varsity team. Ranked top-32 in the state, Rajamohan reached the semifinals at the Eastern Connecticut Conference this past season, an impressive feat, especially since the only other qualifiers to that round were seniors.
Earlier this month, she won a free week of camp (Aug. 19-23) through a fan promotion on the IMG Academy Facebook page.
Under the tutelage of coach Paul Forsyth, Cougar Arande and Cody Wright, Rajamohan has seen tremendous improvement in her backhand.
"My backhand was nowhere near as good as my forehand," Rajamohan said. "At camp, I've definitely gained power and become more confident in hitting it."
Remarkably, Rajamohan swings a two-handed backhand.
"My left arm wasn't strong enough to hit a one-handed backhand and I would always naturally put two hands on the racket anyway because it was cleaner and gave me more power," Rajamohan remarked.
She learned to strategically maneuver the positioning of her right hand to overcome not only the lack of a firm racket grip and the absence of motion felt in the nerves of her right arm, but also the inability to flick her wrist during the spin required to hit the ball over the net.
"I hope to inspire people to believe that they can do whatever they set their mind to," expressed Rajamohan. "I want people to realize that they're capable of anything. I've worked really hard to become the player that I am today and I didn't just stop going for my goals because I had one arm."
Rajamohan hopes to amplify her message of perseverance through a charity tennis tournament she is organizing set to take place September 7. All of the proceeds will go to Shriners Hospitals for Children, the hospital where her prosthetics are made.
In the upcoming season, Rajamohan looks to win the conference title and qualify for semifinals at the Connecticut State Championships.
Photo by: Cindy Yu
connect with us & get a guide
Contact Us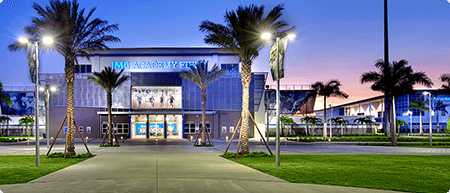 5650 Bollettieri Boulevard
Bradenton, FL 34210
Fill out the form below and we'll be in touch soon!
Request a brochure
We offer downloadable brochures about our boarding school, youth camps, adult programs, team training and pro/collegiate training in multiple languages.
Visit Us
Are you interested in touring the IMG Academy campus? Fill out the form below to submit a tour request and we will be in touch soon to confirm your request.