IMG Academy fires on all cylinders for 49-3 Homecoming romp over Lake Minneola

It was Homecoming for the IMG Academy Ascenders football team as they looked to defend their home against the Lake Minneola Hawks, but it was all-IMG Academy. With a balanced offensive attack accompanied by another stifling performance by the Ascender defense, IMG Academy rolled over Lake Minneola to the tune of 49-3, improving to 7-0 on the season.
"Offensively we spread it around in some different formations, made some big runs, but the biggest thing for me was no turnovers," remarked Head Coach Chris Weinke on the overall performance. "Anytime you have no turnovers, you allow yourself to have more opportunities, and we had some guys make some big plays.
The offense came through with big plays aplenty. However, the defense was as stingy as ever, only yielding a paltry 222 total yards. Led by playmakers such as DE Kyle Forde, who added another sack to his state-leading 16.5 total, and a dynamic linebacking corps and hard-hitting secondary, the Ascender defense has become a weapon unto itself.
Weinke added, "Our defense has been playing great all year – we've been in situations where we've given up some big plays, but consistently across the board our defense has played very well. It's nice from an offensive standpoint when you have a defense that's doing what they're doing."
Vosean Crumbie is another of those impact players on defense. Against Lake Minneola, the Tallahassee, Fla. native recorded several big hits, while taking snaps on offense and starting at punt returner.
"I felt like I owed it to Coach [Joe Sturdivant], because he asked me to step it up for him, and I had a great week and it transferred to the game," commented Crumbie. "Coach Joe stays on top of us, and every week we're getting better and doing our best to stay consistent."
Notably, QB Michael O'Connor continues to progress under center. The Penn State commit completed 12-of-18 passes (67%) and three touchdown passes, both of which were season highs, and added 206-yards through the air. On the receiving end of those scores were WR Casey Gunderson, who hauled in two scores (28 and 49-yards), and WR Sean Daniel who brought in a touchdown in the fourth quarter (20-yards). The running attack got rolling when RB Jack Wegher made a 72-yard burst in the second quarter, and was followed up by Alabama commit Bo Scarbrough's 158-yards of rushing on 13 carries. Scarbrough added two scores of his own of 14 and 65-yards.
IMG Academy will hit the road next week, traveling to Jacksonville, Fla. to take on Trinity Christian Academy, who are led by class of 2015 consensus five-star prospects, LB Jeff Holland and DB Kevin Tolliver, II. Kickoff is scheduled for 7:30 p.m. on Oct. 18.
Box Score
Lake Minneola 3, IMG Academy 49
IMG 7 21 7 14 — 49
Minneola 0 3 0 0 — 3
First Quarter
IMG – C. Gunderson 28-yard pass from Michael O'Connor (J. Dick kick), 3:40
Second Quarter
LM – Field goal by R. Mortlock 27-yards, 11:16
IMG – J. Wegher 72-yard rush (J. Dick kick), 10:20
IMG – B. Scarbrough 14-yard rush (J. Dick kick), 5:10
IMG – B. Scarbrough 65-yard rush (J. Dick kick), 2:29
Third Quarter
IMG – C. Gunderson 49-yard pass from M. O'Connor (J. Dick kick), 2:06
Fourth Quarter
IMG – S. Daniel 20-yard pass from M. O'Connor (J. Dick kick), 11:55
IMG – M. Daniel 9-yard rush (J. Dick kick), 3:30
Team Statistics
LM // IMG
First Downs 9 // 18
Rushes - Yards  20-64 // 30-290
Comp - Att - Int  20-27-0 // 12-18-0
Passing Yards 158 // 218
Punts - Avg 5-37.5 // 1-33
Fumbles - Lost 3-1 // 0-0
Penalties - Yards 4-20 // 9-54
Fields Goals – Made 1-1 // 1-0
Individual Statistics
PASSING: LM – Jesse Fiske 19-of-23, 150-yds, 1 TD, 0 INT; Austin Hunt 1-of-4, 8-yds, 0 TD, 0 INT // IMG - Michael O'Connor 12-of-18, 206-yds, 3 TD, 0 INT
RUSHING: LM – Jesse Fiske 5 car, 12-yds; Brynden McCoy 4 car, 9-yds; Desmond Johnson 9 car, 47-yds; Jahmari Walden 1 car, 1-yd; Austin Hunt 1 car, (- 5)-yds // IMG - Bo Scarbrough 13 car, 156-yds, 2 TD; Jack Wegher 8 car, 91-yds, 1 TD; Vosean Crumbie 1 car, 9-yds; Michael O'Connor 2 car, 1-yd; Mike Daniel 3 car, 29-yds, 1 TD; Brandon Whitaker 1 car, 3-yds
RECEIVING: LM – Jahmari Walden 7 rec, 47-yds; Devin McTigue 5 rec, 36-yds; Austin Hunt 3 rec, 12-yds; Desmond Johnson 2 rec, 55-yds; Brynden McCoy 3 rec, 8-yds // IMG - Casey Gunderson 4 rec., 95-yds, 2 TD; Clark Thomas 1 rec, 9-yds; Bo Scarbrough 1 rec, 26-yds; Sean Daniel 3 rec, 50-yds, 1 TD; Vosean Crumbie 1 rec, 16-yds; Jerrell Scoggins 1 rec., 10-yds.; Brandon Whitaker 1 rec., 12-yds.
connect with us & get a guide
Contact Us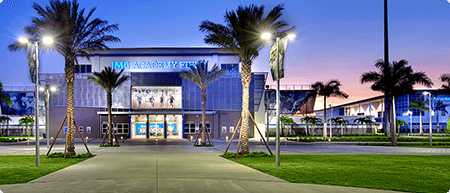 5650 Bollettieri BLVD.
Bradenton, FL 34210
Fill out the form below and we'll be in touch soon!
Request a brochure
We offer downloadable brochures about our boarding school, youth camps, adult programs, team training and pro/collegiate training in multiple languages.
Visit Us
Are you interested in touring the IMG Academy campus? Fill out the form below to submit a tour request and we will be in touch soon to confirm your request.