IMG Academy football welcomes Josh Fisher as honorary team member through Friends of Jaclyn program

The IMG Academy Football program received its latest commitment in its inaugural season, as they welcomed Josh Fisher of Odessa, Fla. as an honorary team member through the Friends of Jaclyn (FOJ) program. Fisher has no position on the field, probably because he is four-years old, but after being diagnosed with Acute Lymphoblastic Leukemia (ALL) at age two, his toughness and determination sets a standard for this IMG Academy squad.
"We're welcoming him with open arms and now he's a part of our family," said Chris Weinke, Head Coach and Director of Football, IMG Academy. "He's truly an inspiration to each and every person that's part of our team. We'll gain strength throughout the season knowing we have this relationship with Josh, and we look forward to spending a lot of time with him and allowing him to play an important role on the football team this year."
The FOJ is a non-profit organization founded by Denis Murphy that pairs up children and their families battling life-threatening pediatric illnesses with collegiate and high school sports programs. FOJ aims to improve the quality of life for these affected children. In addition to sponsoring Josh, FOJ sponsors his two older brothers, Charlie and Justin, in its Safe on the Sidelines (SOS) program, which provides Josh with even more support as he battles ALL. Fisher's diagnosis requires frequent visits to the hospital and cancer clinic. Additionally, he undergoes daily chemotherapy, transfusions and spinal injections to battle the cancer cells that compromise his immune system.
As the first of IMG Academy's sports programs to report to campus for the start of the school year, the football team had the opportunity to kick off the new relationship between IMG Academy and FOJ.
Fisher was welcomed onto the team, where he received a blue poker chip recognizing him as a team member that is "All-In" from Weinke, and a ball signed by the entire team. Likewise, Running Back Bo Scarbrough removed his gloves and gave them to Fisher. Excitedly, Fisher could not try the gloves on quickly enough, and as soon as they were on, he was seen running for the endzone with his autographed ball and taking handoffs from Quarterback Michael O'Connor.
"It's truly something special to be able to affect somebody else's life like that," said Offensive Lineman Donnie Foster. "His presence definitely gives us something to look forward to, and it's wonderful to have him on our team. It shows just how lucky we are to be able to play this great game because not everybody has the opportunity to do so."
Quarterback Michael O'Connor added: "You have to take sports with a grain of salt sometimes because there are a lot more important things in life. With Josh on the team now, it puts all that into perspective."
By welcoming Fisher to the family, the team will be reminded of just how fragile life can be and how strong an individual can be in the face of adversity.
"It's big because here's a kid that probably won't ever be able to play football like we do," said running back Mikey Daniels. "We get to do what we love every single day, so I'm all about not taking anything for granted and truly making the most of each day."
Fisher's spirited disposition and active lifestyle show that he refuses to let ALL bring him down. He loves the game of football, and has a knack for memorizing players' numbers and positions.
"My goal is that [Josh] spends a lot of time with us at practice and at the games, just like any other player," Weinke remarked. "I think what happens, especially in this sport, is that times get tough and Josh is a testimonial in that when things go bad, he will be able to elevate what we do on a daily basis. Part of our team goals every year are to not only make a difference in our own lives, but more importantly, in the lives of others, so this is a perfect fit."
To view scheduling and ticketing information for IMG Academy home games, please click HERE.
connect with us & get a guide
Contact Us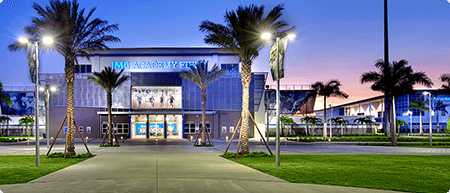 5650 Bollettieri Boulevard
Bradenton, FL 34210
Fill out the form below and we'll be in touch soon!
Request a brochure
We offer downloadable brochures about our boarding school, youth camps, adult programs, team training and pro/collegiate training in multiple languages.
Visit Us
Are you interested in touring the IMG Academy campus? Fill out the form below to submit a tour request and we will be in touch soon to confirm your request.