The IMG Academy girls basketball program puts the finishing touches to their season

The IMG Academy girls basketball program's Academy Team put the finishing touches to their season this past weekend by bringing home a championship from the Zero Gravity's War of Westchester tournament in New York. The closest game of the tournament came against Fencor where the girls came out victorious, 53-40. Abigail Tinsley led all scorers by putting up 26 points and adding seven rebounds in the post. Against Putnam, the Academy Team doubled their opponents score 50-25 with standout Sofia Epishina filling up the stat sheet recording 10 points, three steals, and three blocked shots. During the Highland game, LaTorae Nixon scored 11 points, snatched seven rebounds, and batted three blocks to help win in easy fashion, 49-21. The biggest blowout of the tournament came against Hoops Express where the team's stingy defense only gave up 22 points while their offense laid on 58 points. Ellie Hill was everywhere on the court racking up six steals in all.
In their first year of creation, the Academy Team consisted of a unique makeup of developmental and dynamic players. Over the 2012-2013 season, the ability to train alongside the IMG Academy Women's National Team helped the group progress and has push their talents to new heights. Among the National Team is a highly competitive crew featuring seven national players from five different countries. This list of players includes Canadian twins Khaleann and Audrey Ann Caron-Goudreau; Japanese standout and LSU commit Rina Hill; and Natascha Hartvich. Natascha is a next tier Olympic player from Denmark who looks to join the Fresno State Bulldogs at point guard next season.
Coach LaKita Ford went on to say, "The work ethic and skill set required to play on the same court with the nation's best has prepared the Academy Team to soar above anyone their age.  Our girls are physically fit, mentally tough and have the confidence to take on any challenge.  I could not be more excited about their level of maturity both on and off the court."
This unmatched competitive environment allowed the Academy Team to continually improve their skills, and make success a common occurrence throughout the year. Anchored by seniors, Abigail Tinsley and Ellie Hill, the Academy Team finished their season with an 18-2 record and a total of three tournament championships on record. Abigail Tinsley led the team in scoring and rebounds this season with 322 points and 190 rebounds respectively while Ellie showed her tenacious defense and heart by leading the team in steals, deflections, and minutes played.
connect with us & get a guide
Contact Us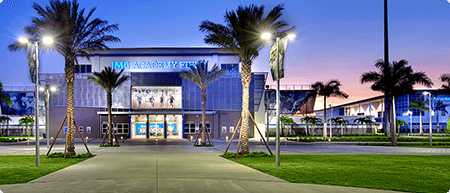 5650 Bollettieri Boulevard
Bradenton, FL 34210
Fill out the form below and we'll be in touch soon!
Request a brochure
We offer downloadable brochures about our boarding school, youth camps, adult programs, team training and pro/collegiate training in multiple languages.
Visit Us
Are you interested in touring the IMG Academy campus? Fill out the form below to submit a tour request and we will be in touch soon to confirm your request.