IMG Academy giving athletes more than training on the field

BRADENTON, Fla. — Imagine a sports utopia. Clear skies, warm weather, palm trees swaying in the sunlight and tennis courts as far as the eye can see.
School-aged children darting back and forth between school and sports with aspirations that one day, maybe, they'll become one of the world's next great athletes.
Basketball courts. Golf courses. Baseball diamonds. Football, soccer and lacrosse fields — all with perfectly trimmed grass. Elite coaching and state of the art facilities — a place unlike any other in the world. This place isn't something out of a dream. IMG Academy does exist — in a small town about 50 miles south of Tampa — Bradenton, Fla.
THE VISION
It all started with legendary tennis coach Nick Bollettieri, who established the first full-time tennis boarding school in the world in 1978.
Bollettieri — who developed elite tennis talents such as Andre Agassi, Venus Williams, Serena Williams and Maria Sharapova — had a vision to provide young athletes with the opportunity to train like professionals, while giving them the resources they needed to achieve their academic endeavors as well.
His academy revolutionized the way tennis was taught at the elite junior level, and in 1987, the Nick Bollettieri Tennis Academy was purchased by the International Management Group, better known as IMG and became IMG Academy.
As years passed, IMG Academy began to bring additional sports into the fold, along with an accredited high school, transforming the academy into the nation's premier multi-sport boarding school.
"The growth has been staggering," IMG Academy athletic director Scott Dean said. "I think it has a lot to do with our successes — people that have come in, done well and went on — and then the reality is we're a part of a bigger family that will support our vision."
From its origins as a 40-acre expanse of tennis courts, the campus now spans more than 500 acres, housing eight sports and world-class facilities. Over the past four years, the campus has added two new dormitories, a 75,000 square foot academic center, a 5,000-seat stadium, a fieldhouse, and baseball and soccer fields as part of an ongoing $198-million expansion.
The student body is comprised of slightly more than 1,000 students who come from more than 80 countries. On average, the tennis and soccer programs are the largest of the eight sports on campus and account for nearly half of the Academy's enrollment.
"It's one of those things where if you build it, they'll come," IMG Academy head football coach Kevin Wright said. "Really they were coming before we even built [the stadium], which is even better, because then you have some testimony from kids who were here prior to everything you see and were able to be highly successful based on the practices and methodology.
"When you add human resources with the physical resources, it becomes a really good product. Really what we've done as an academy is evolved into even more of a collegiate model with the structure. It was all over the place [in the past]. Now, when you move out the facilities, [the athletes] have a brand new high school, brand new dorms and a brand new campus center where everybody can now congregate. Before, there really wasn't a place for kids from eight different sports to all hang out. I think that's important."
In the near future, a state-of-the-art performance and sport science center is set to open, housing performance partners like the Gatorade Sports Science Institute and Under Armour.
"The perception now is we're first class all the way around," Dean said. "Now, kids come in and there's an expectation, which, we're okay with that. We want them to feel that they're part of the best. Expectations are high and we have to keep finding ways to deliver."
THE REALITY
For those who have only heard of IMG, the biggest misconception about the academy is that it's an "athlete factory" that values sports above academics.
According to academic director Chris Locke, that statement couldn't be any further from the truth.
"We are not a school for just jocks," Locke said. "We're pushing and preparing students to be successful."
IMG students have a 32-week academic year and must maintain a 2.3 GPA, the NCAA qualifying standard, to be able to compete. Just like student-athletes at the college level, they are expected to balance both academics and athletics.
"We are a college preparatory curriculum," Locke said. "We're an independent school, so we use a variety of standards from common core to Florida state standards. In science, we use National Science Foundation standards. We're a fully accredited school from the Florida Council of Independent Schools as well as AdvancED, which is sort of a national accreditation for colleges and high school.
"Each course has a certain number of objectives and outcomes, but they sort of have the academic freedom to define what the curriculum. We don't have to teach to a state exam that kids have to take like you would at a public school — they can really focus on making sure their courses are unique, individual, and as long as each person gets the desired outcome, [the teachers] have the freedom to design the class the way they see fit."
A DAY IN THE LIFE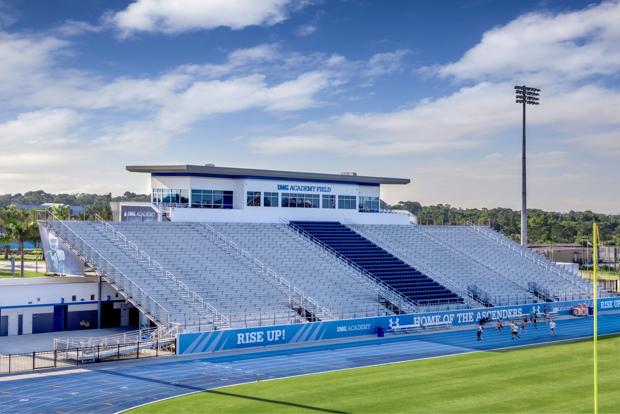 A typical day in the fall semester for a football player consists of waking up around 6 a.m., and making it to breakfast before 7:30 in order to be on time for his first class that begins at 7:45.
IMG's student-athletes are on a block-six schedule, meaning they'll have three 90-minute classes one day, and three different 90-minute classes the next day. When classes conclude around 12:30 p.m., they will have about 40 minutes for lunch.
On select days of the week, students take an athletic performance development class, or APD as IMG calls it, and the classes usually last about 45 minutes to an hour. In season for football, they usually take APD classes two-days per week with mostly a focus on mental conditioning.
Other APD classes offered are strength and conditioning, movement, speed and footwork, nutrition, leadership, vision training and even yoga — anything to advance the student-athlete's ability out of competition.
That brings the day to about 2:30 p.m. Football players will then head to the stadium for team meetings.
"We do a lot of video analysis — we tape everything that we can from drill work to group work to individuals," Wright said. "A lot of times, we have two different video copies — sideline and end zone — which we use for practice as a part of our training model. I think it's important that kids see themselves and actually have the opportunity to go through the film with 1-on-1 mentoring. We have position coaches for every position just like college program, and I tell them that their job as coaches is to also be mentors."
The meetings last about 45 minutes to an hour, then it's time to head to the field for 10 to 15 minutes of walkthroughs followed by two hours of high-paced practice.
The end of practice puts the time at around 6 p.m. At that point, players will jump in the cold tubs for "eight minutes of heaven," and receive any treatment they need from team trainers. They will then head to the cafeteria for dinner until 7:30, and after they finish, they hit the books.
Student-athletes who do not meet the GPA standard are required to go into the school from 7:30 until 9 p.m. for mandatory study hall. Those who do meet the academic standard have the option to be in their residence hall during that period of time for 'quiet hours,' where their door is propped open while doing their studies.
Student-athletes can also sign themselves out of their residence halls and go to the academic building, where there will be 10-12 tutors available every night. Three days a week between second and third period as well as between fourth and fifth period, teachers offer 30-minute office hours for students to ask questions, make up quizzes or study individually.
Once schoolwork is handled, the student-athlete will have some free time from 9 to 10:45 p.m. And at 11 p.m., a strict lights out policy is enforced.
"You're as prepped here as you will be anywhere in this world to move on to a university system, because we run it the same way," Dean said. "This is a special place. It gives coaches the opportunity to come and get what they're looking for because we have an abundance of [college-ready] athletes here. They know their backgrounds and what they're doing — we can provide that information. And they know that regardless of [the athlete's] level, they're committed and working hard at their craft because here, our athletes do it every day.
"Our kids live on their own, essentially. We travel like a college team to away games, they're in a weight room three days a week, they're training every day and they have to maintain their own studies."
THE IMG EXPERIENCE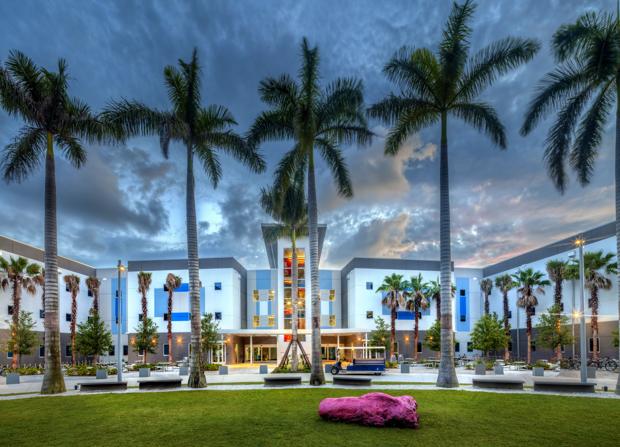 What kind of athlete is a good fit for IMG Academy? According to Dean, simply one that's intrinsically motivated and ready to work.
"I don't know that we always get it 100 percent right because we have multiple different ways a kid could get here. They can sign up online and come, or they can be recruited to come by our staff," Dean said. [But the most successful kid who comes here] is fully vested and 100 percent committed to everything — academics, their sport, all of the things off the field, the weight room and the training room. Because I've always said that you can take a great athlete who doesn't buy into this, and they won't be successful here because we are a true lifestyle now."
With a demanding academic schedule and a relentless daily training regimen, IMG Academy isn't for everyone, but for the athletes fortunate enough — and mentally strong enough — to attend school there, it's the opportunity of a lifetime to become the best versions of themselves on and off the field of competition.
"Playing here at IMG has not only improved my game, but also made me a great student in the classroom," IMG Academy basketball player Kevin Blaser said. "The transition from Europe to the United States can be really challenging, especially when you don't speak English very well, but the teachers have taken the extra time to re-teach me anything I don't quite understand in extra classes and evening study halls. The teachers and coaches at IMG have taken great care of me and its really starting to show in every aspect of my life, and it's made all the difference."
Credit to: Opelika-Auburn News
connect with us & get a guide