IMG Academy goes on the road to conquer Miami's Monsignor Pace, 35-7

The Ascenders football team put their undefeated record on the line when they headed to Miami to take on the Monsignor Pace Spartans on Friday, Oct. 4. The Spartans struck first with a 5-yard Kelly Benson-to-Patrick Stanley touchdown pass, but it was all IMG Academy from there on out. The Ascenders scored five unanswered touchdowns en route to a 35-7 win to improve to 6-0 on the season. 
Leading the way for IMG Academy was RB Bo Scarbrough, who carried the ball 17 times for 221-yard (13 ypc) and two scores, one of which was a dazzling 70-yard dash to pay dirt. Scarbrough added another score through the air on a 30-yard pass from QB Michael O'Connor. Penn State commit O'Connor finished with an efficient 9-of-15 passing for 218 and two touchdowns, highlighted by a 73-yard bomb to WR Casey Gunderson in the fourth quarter. 
The IMG Academy defense continued to prove to be among the toughest units in the state of Florida, only allowing 186-total yards on the night (144 pass, 42 rushing). Canadian born LB Andrew Smith put an exclamation mark on the defense's overall performance with an interception in the waning minutes of the game. 
The Ascenders return to action for a homecoming matchup against Lake Minneola (Orlando) on Friday, Oct. 11 at 7:30 p.m. For scheduling and ticket information, click HERE. 
Box Score
IMG Academy 35, Monsignor Pace (Miami) 7
IMG 7 14 7 7 — 35
Pace 7 0 0 0 — 7
First Quarter
MP – Stanley 5 pass from Benson (Morales kick) IMG – Scarbrough 1 run (Dick kick)
Second Quarter
IMG – O'Connor 1 run (Dick kick)
IMG – Scarbrough 30 pass from O'Connor (Dick kick)
Third Quarter
IMG – Scarbrough 70 run (Dick kick)
Fourth Quarter
IMG – Gunderson 73 pass from O'Connor (Dick kick)
Team Statistics
MP // IMG
First Downs 9 // 18
Rushes - Yards 20-42 // 36-225
Comp - Att - Int 19-35-1 // 9-15-0
Passing Yards 144 // 218
Punts - Avg 7-41 // 1-35
Fumbles - Lost 1-1 // 4-4
Penalties - Yards 7-75 // 12-120
Fields Gaols 0-2 // 0-0
Individual Statistics
PASSING: MP - Kelly Benson 18-of-31, 129-yds, 1 TD, 0 INT; Eric Walker 1-of-4 , 15-yds, 0 TD, 1 INT // IMG - Michael O'Connor 9-of-15, 218-yds, 2 TD, 0 INT
RUSHING: MP - Kelly Benson 11 car, 28-yds; Deion Balfour 6 car, 18-yds// IMG - Bo Scarbrough 17 car, 221-yds, 2 TD; Jack Wegher 8 car, 20-yds; Brandon Whitaker 3 car, 12-yds; O'Connor 1 car, 1-yd, 1 TD
RECEIVING: MP - Henderson Gray 6 rec, 52-yds; Leondre Hughes 4 rec, 33-yds; Deion Balfour 3 rec, 21-yds; Malcolm Anderson 3 rec, 20-yds; Albert Small 2 rec, 13-yds; Patrick Stanley 1 rec, 5-yds, 1TD // IMG - Casey Gunderson 3 rec., 115-yds,1 TD; Clark Thomas 2 rec, 48-yds; Bo Scarbrough 2 rec, 27-yds, 1 TD; Sean Daniel 1 rec, 21-yds; Martin Gustafsson 1 rec, 7-yds
Photo by: IMG Academy
connect with us & get a guide
Contact Us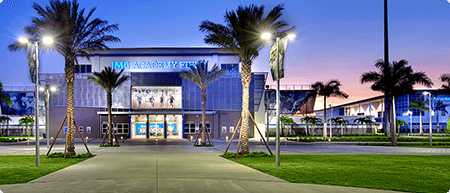 5650 Bollettieri Boulevard
Bradenton, FL 34210
Fill out the form below and we'll be in touch soon!
Request a brochure
We offer downloadable brochures about our boarding school, youth camps, adult programs, team training and pro/collegiate training in multiple languages.
Visit Us
Are you interested in touring the IMG Academy campus? Fill out the form below to submit a tour request and we will be in touch soon to confirm your request.