IMG Academy is helping student-athletes from China to #BecomeMore

On Monday, the Chinese Football Association declared international soccer icon David Beckham as their first global ambassador. It is the first-ever honor of its kind bestowed upon anyone in China, and Beckham will serve to help promote Chinese soccer domestically and globally.
However, this reflects an increasing trend with China reaching out to IMG to promote and develop sports within the world's most populous nation.
Last year, a group from the IMG Academy soccer program were invited to visit China, which led to the Guangdong FA U19 soccer team, a Chinese provincial team, accepting an invitation to travel and participate in the IMG Cup – Boy's Invitational, held at IMG Academy, in the SuperGroup Division. Guangdong played admirably; going toe-to-toe with elite youth teams such as U.S. Soccer's U17 Men's National Team and Israeli powerhouse Maccabi Haifa F.C.
Guangdong 's head coach Chao Mai was enthusiastic about the team's visit. Mai said, "We came here because we want to gain more international match experience. By competing here, we're setting ourselves up for better matches in the future… The weather, the grass and the facilities – everything is so good. There are so many great players here."
Guangdong's visit to IMG Academy was so successful, that not long thereafter, another special envoy from IMG Academy made an exploratory trip to China to visit many of the nation's sports commissions and schools. The goal of the trip was to establish a stronger relationship to help fill China's growing demands for sports training and development. The IMG Academy group visited schools including Shi Cha Hai Sports School (什刹海体运动学校); Shanghai High School (上海中学); Beijing No. 2 High School (北京二附中); and The Western Academy of Beijing(京西学校).
IMG Academy has proven to be a valuable part of many Chinese athlete's academic and athletic development. Currently, with a student-population of more than 780 full-time student-athletes that boasts representatives from more than 80 different nations, nearly 70 hail from China.
Current standout Chinese players at IMG Academy include
Meng Xiang Yu,

a 7-foot-1 basketball player who was

featured on Trans World Sport

.


 
Michelle

and

Vanessa Yan

, sisters in 9th and 8th grade, respectively, who came from Hong Kong to join the gold program and learn and train. They have recorded several tournament wins during the 2012/13 season.


 

 

Christina Wang

, a senior who played out her final year at IMG Academy to earn a college offer to the school of her dreams, and succeeded, committed to the Boston College ladies golf program with the class of 2013.


 
RunHao Hua

, a native of Shanghai, who at age 17 has risen more than 700 spots in the junior International Tennis Federation (ITF) rankings since arriving at IMG Academy, and is currently ranked No. 161. 


 
Phoebe Zhao, a junior in the golf program, has experienced a steady rise in the junior rankings and is receiving interest from many top NCAA Division-I programs. 
connect with us & get a guide
Contact Us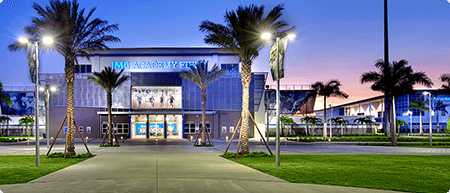 5650 Bollettieri Boulevard
Bradenton, FL 34210
Fill out the form below and we'll be in touch soon!
Request a brochure
We offer downloadable brochures about our boarding school, youth camps, adult programs, team training and pro/collegiate training in multiple languages.
Visit Us
Are you interested in touring the IMG Academy campus? Fill out the form below to submit a tour request and we will be in touch soon to confirm your request.